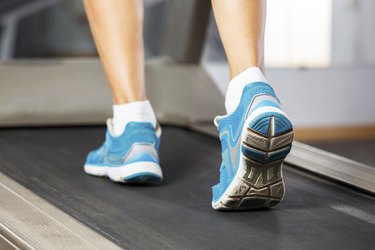 Fitness personality Leslie Sansone literally walked her way to fame. Her Walk at Home program has produced over 100 DVDs and released four books, including "The Essential Walker's Journal: Your Companion to Weight Loss, Health, and Personal Transformation." What started humbly with Sansone leading exercises classes in her church basement was a multi-million dollar empire in 2013.
Leslie Sansone was born February 14, 1961, in New Castle, Pennsylvania. She began teaching fitness classes during the 1980s in the basement of a Pennsylvania church, but she soon realized not everyone was up for the challenge of fast-paced aerobics. To counter this intimidation, she developed a walking program that appealed to a much broader range of people. The classes were a hit, and people packed the basement to take part in the action. A friend of Sansone decided to film one of the classes, and the idea for a television and home-based walking program was born.
Sansone's philosophy is centered around the idea that even the simplest of movements can have a huge impact on a person's fitness level. She believes walking is a sport for life, and that nearly everyone can participate. Her approach is one of encouragement and inspiration. Fitness isn't the only goal for Sansone, however. She also teaches that walking can reduce stress and renew the spirit. She sees it as an opportunity to teach children about the benefits of an active lifestyle.
Sansone has developed several walking-based programs now featured in books and DVDs for easy use at home. Among them are the "Belly Blasting Walk" (2013), "Ultimate 5 Day Walk Plan" (2012) and "5 Really Big Miles" (2012). Each plan is designed to help people of all ages and fitness levels drop excess weight, build muscle and get in shape. While the programs focus on walking at different speeds, she does incorporate other elements such as core rotations and standing curls to tone specific muscle groups.
Even though Sansone didn't start out as a fitness expert, she has become one, and she has the credentials to back it up. As of 2013, she had eight different certifications, including one from the renowned American College of Sports Medicine. She is also a regular contributor and supporter of organizations like the American Heart Association and the American Diabetic Association.