Strong, toned thigh muscles support knee movement and can lessen the possibility of increased knee weakness and damage that comes with aging -- a particular concern for people over 50. Wear and tear of the knee cartilage can be increased by squats, stair climbing and running uphill. To create toned thighs without straining your knees, use straight leg lifts with or without ankle weights to build muscle.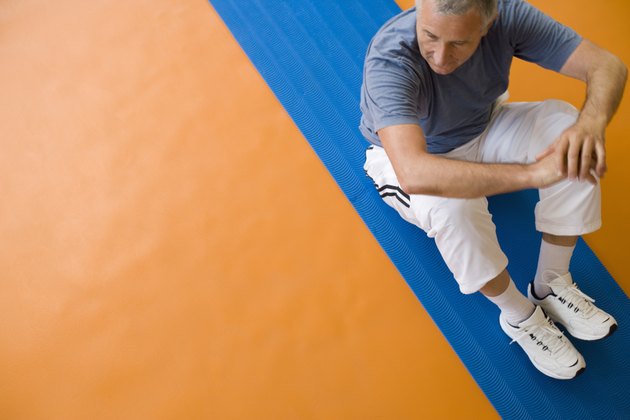 Building Thigh Muscle Over 50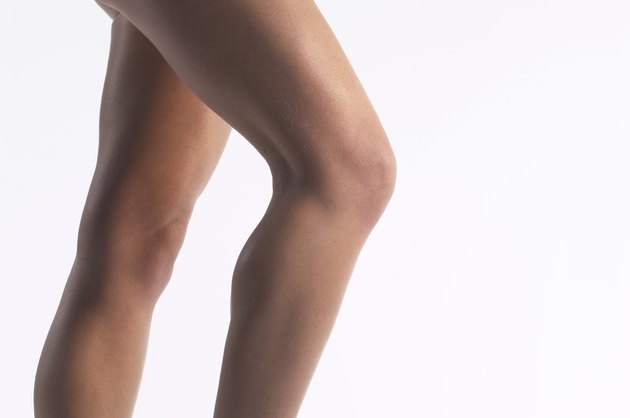 People over 50 have age-related declines in muscle mass and strength that can be significantly improved with strength training. Weightlifting can build thigh muscles, which creates a more toned appearance. Before starting an intense exercise program, anyone over 45 should get a doctor's approval, and let your doctor know if lifting weights causes you pain or any other physical problems. Start with weights heavy enough to provide resistance but not complete muscle fatigue after 10 to 15 lifts. Increase weight gradually as you gain strength, staying with the same weight for at least one month before increasing. If you experience nausea or dizziness, reduce weight and lengthen your rest periods. Breathe regularly as you exercise -- do not hold your breath.
Straight Leg Lifts With Weight
Straight leg lifts with ankle weights can tone and build thigh muscles without tearing knee cartilage. Use ankle weights heavy enough to cause resistance but not pain after 10 to 15 lifts. Start without weights if you need to build strength. Stand with your feet slightly more than shoulder-width apart, supporting yourself with one hand against a wall or holding a chair or bar. Keeping your back and hips straight, lift one leg straight up in front of you as high as you can without pain. Lower and repeat 10 to 15 times, then switch legs. Rest one to three minutes, or longer if needed. Do two more sets with another rest period in between. To tone the outer thigh, repeat this exercise lifting your leg straight out to the side. To tone the back of the leg, repeat lifting straight back.
Inner Thigh Toning
Firm up the inside of your thighs with lying leg lifts. Lie on your left side on a mat with your head resting on your upper left arm. Bend your upper -- right leg -- up and forward so that the knee and foot rest on the mat in front of you. Keeping your lower -- left leg -- straight, point your heel toward the ceiling and lift the leg up as high as possible. This should be about a one- to two-foot-high lift. If you don't use ankle weights, do three sets of 25 to 50 repetitions on each leg. With ankle weights, do three sets of 10 to 15 repetitions. Do leg stretches during your rest periods to loosen and lengthen your thigh muscles.
Reveal Muscle With Cardio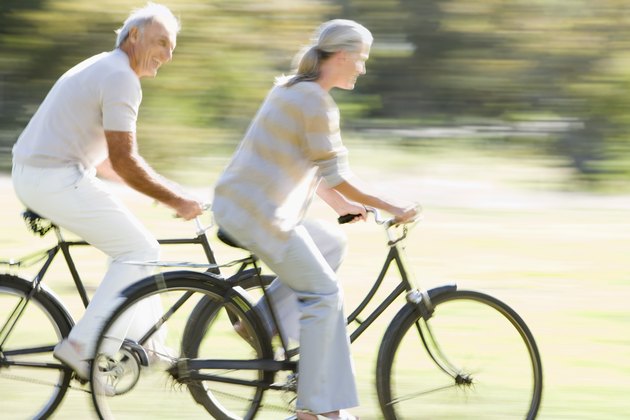 Burn fat that might be covering your toned thigh muscles by burning calories with low-impact cardio exercises that are easy on the knees of people over 50. Biking burns significant calories while the bike seat, instead of your knees, supports your weight. In one hour of moderate-intensity biking, you will burn about 420 calories if you weigh 125 pounds and 622 if you weigh 185 pounds -- less calories if you are lighter and more if you are heavier. Swimming has even less impact on the knees than biking. An hour of swimming will burn about 360 calories if you weigh 125 pounds and 532 calories is you weight 185. Cardio exercise can cause weight loss by burning a significant amount of calories; you'll lose weight when the calories you consume each day are less than the total calories you burn.