Numbness in the upper left part of the back can be more than just worrisome, it can also be frustrating and debilitating. Because it can signal a serious medical condition that requires a doctor's attention, it is important to understand why back numbness can occur — and what you can do to treat it.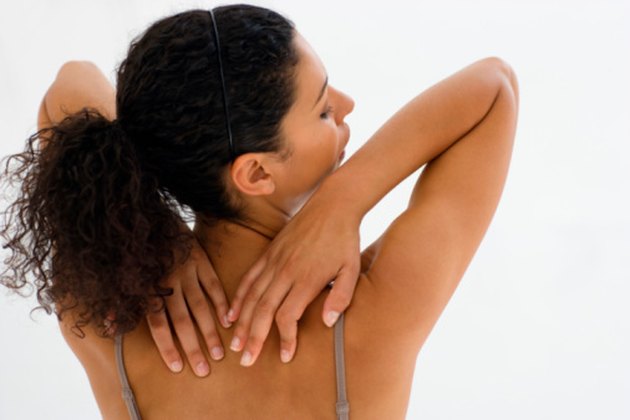 Definition
Numbness in the upper left portion of the back can cause abnormal tingling. If you have back numbness, you can also experience it in other areas of the body such as the legs, arms and feet. Numbness occurs when the nerve impulses experience difficulty traveling from the skin to the brain. It signals nerve damage or injury of some sort in the central or peripheral nervous system and requires prompt medical attention.
Possible Causes
Numbness in the upper left back may be brought on by a variety of conditions. You can experience numbness because of a back injury or a pinched nerve caused by a herniated disc. An infection, scar tissue or tumor also can put pressure on nerves and cause blood vessels to become inflamed, causing numbness in the back. Some medical conditions such as multiple sclerosis, stenosis or a stroke also can cause back numbness.
Treatment Options
To treat numbness in the upper back, it is important to consult a doctor to determine the exact cause. A doctor can suggest medication, surgery or another treatment for numbness caused by an infection, multiple sclerosis, scar tissue, a tumor or stenosis. In the meantime, an over-the-counter medication such as ibuprofen or acetaminophen may help relieve symptoms. Back exercises can help stretch and tone muscles, relieving and preventing pain and numbness.
Warnings
Immediately consult a doctor or visit the emergency room if numbness is accompanied by weakness, paralysis, loss of control of the arms and legs, confusion, loss of consciousness, slurred speech, walking difficulty, bowel or bladder control issues, or vision changes. Seek medical attention if you experience shoulder numbness immediately after a back, neck or head injury. These symptoms can all signal a serious medical problem such as a heart attack.