When the body is injured, signals are sent from the site of damage to the spinal cord. As a central command center, the nervous system regulates the body's response to the pain through a variety of reflexes. For instance, if you are experiencing pain in your hand, your arm will quickly contract to pull your hand out of danger. Similarly, your heart will respond in a reflexive manner to the pain by increasing heart rate. In an evolutionary sense, this "fight or flight" response prepares you to deal with the source of the pain, whether it is a predator or a hot plate.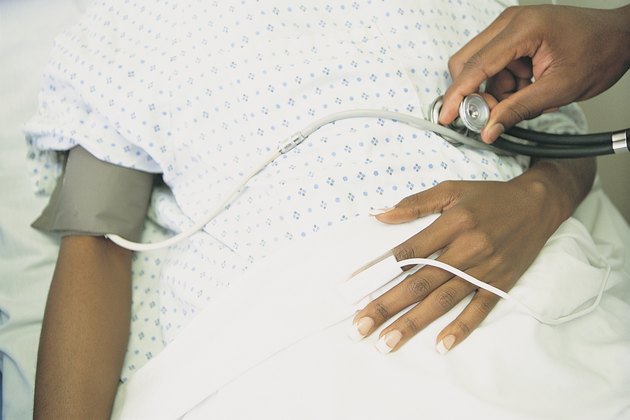 Autonomic Regulation of Heart Rate
Contraction of your heart is regulated by a constantly active collection of cells known as the Sino-atrial Node, or SA node. By precisely controlling the flow of ions into and out of cells, the SA node is capable of spontaneously generating the electrical stimulation that drives your heart to beat. The rate that the SA node stimulates contraction is mainly determined by nerve fibers from the autonomic nervous system. Composed of a sympathetic and parasympathetic branch, the autonomics control heart rate on an autonomous basis, hence the name. When the sympathetic branch is more active, which occurs during pain, the activity of the SA node increases and the heart rate consequently accelerates. Otherwise, the parasympathetic branch is in control of the heart rate, generally keeping it around 70 beats per minute.
Pain Pathways
Specialized nerve endings, known as nociceptors, present across the surface of your skin, are designed to specifically carry pain signals. These nerves are completely separate from the sensory cells that tell you where your hand is in space or what kind of surface it is in contact with. There are several types of nociceptors, some which carry pain signals from extreme temperatures, others carrying signals from mechanical sources of pain. In both cases, the pain information is sent to the spinal cord where it communicates information to the sympathetic branch of the autonomic nervous system. Activation of the sympathetics leads to several adjustments, including changes in heart activity.
Sympathetic Activation
According to a study published in 1998 in the "Journal of Hypertension," there was a significant correlation between heart rate and sympathetic hormone release in subjects. The normal, physiologic response to sympathetic activity is increased cardiac output, which is determined by heart rate and stroke volume. As a result, heart rate increases upon sympathetic activation in order to prepare the body for high-energy activity.
Applications
In most cases, the accelerated heart rates experienced with pain are innocuous. However, if you have a history of cardiovascular disease, including heart failure, arrhythmias, hypertension, or heart attack, you may not tolerate elevated heart rates as well. In some cases, the complications of these conditions may be triggered with sudden increases in heart rate and cardiac output.