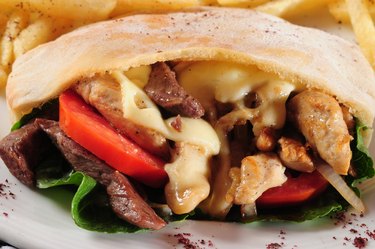 With its combination of chicken and veggies, chicken gyros make for a healthy meal-on-the-go. While the total number of calories and nutrients depends on the type and amount of ingredients you use, a typical chicken gyro is a good source of fiber, protein, B vitamins, vitamin A and calcium. The best part is that you can enjoy your sandwich and gain all the nutrients for about 349 calories.
Lean Chicken
It takes about 1/2 cup of chopped or shredded chicken breast to make one chicken gyro. This amount contains 22 grams of protein, or about half of the 46 grams women need daily and 39 percent of men's daily requirement of 56 grams. The chicken is also a good source of vitamin B-6 and vitamin B-12. Vitamin B-6 is essential for producing neurotransmitters, vitamin B-12 ensures you have healthy red blood cells and both vitamins support your metabolism.
Nutritional Vegetables
Four vegetables commonly included in a gyro are cucumbers, tomatoes, onions and lettuce. If you use one large slice of tomato, two leaves of green lettuce, one scallion and about 1/4 cup of chopped cucumber, you'll gain 2 grams of fiber, at least 15 percent of the RDA for vitamin C and well over an entire day's RDA for vitamin A. The green lettuce alone contributes most of the vitamin A, while the tomatoes, lettuce and scallions provide equal amounts of vitamin C.
Fiber-Rich Pita Bread
One large whole-wheat pita pocket supplies 35 grams of carbohydrates and boosts the B vitamins because it's a good source of thiamin, niacin and vitamin B-6. You'll also get 11 percent of the daily value for iron, based on consuming 2,000 calories daily. As long as you choose a whole-wheat pita, you'll gain 5 grams of fiber. If you prefer white pita bread, you'll get about the same amount of vitamins but only 1 gram of fiber.
Healthy Dressing
You can use a prepared, low-fat cucumber or ranch dressing, but it's easy to make a gyro dressing by combining plain yogurt with garlic, a touch of lemon juice and chopped fresh dill or grated cucumber. In one serving, you will get only a measurable amount of nutrients from the yogurt. One-quarter cup of plain yogurt contributes 112 milligrams of calcium, or 11 percent of the recommended dietary allowance of 1,000 milligrams. It also adds more protein and enough vitamin B-12 to double the total in the sandwich.