Calories are units of energy needed to fuel daily activity. The amount of fuel a woman needs daily depends on many factors, including size, age and activity level. Treat the recommended daily caloric intakes for women as guidelines only -- you may need more or fewer depending on your personal situation.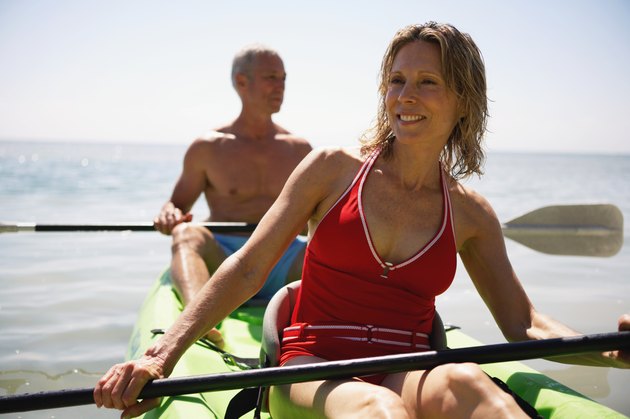 Significance
Balancing your calorie intake against your calorie output helps maintain your weight. Most everything you eat or drink contains calories, while any activity you do – from simply breathing to running a marathon – burns calories. Eating too few calories can cause weight loss, while eating too many causes weight gain.
Recommendations
The number of calories a woman needs daily varies according to age. Younger women generally need more calories than older women, as they tend to have more muscle mass and be more active. A sedentary woman aged 19 to 30 years needs between 1,800 and 2,000 calories daily, while moderately active women need 2,000 to 2,200 calories and very active women need 2,400. A woman aged 31 to 50 years needs 1,800 to 2,200 calories daily, and should increase her caloric intake by 200 to 400 calories to account for moderate in activity. Women over age 51 need 1,600 calories -- for a sedentary lifestyle -- 1,800 calories for a moderately active lifestyle and up to 2,200 calories for an active lifestyle. Add 300 calories to your daily intake if you're pregnant or breastfeeding.
Activity Level
If you are inactive, you should consume less than the recommended daily calorie consumption. Active women, defined as those that perform physical activity equivalent to 1.5 to 3 miles of brisk walking per day, should aim for the middle of the calorie range. Very active women, those who move the equivalent of 3 miles or more daily, should aim for the highest end of the range.
Considerations
If you follow the recommended calorie intake, but lose or gain weight without intending to, alter your calorie intake accordingly. Although eating fewer calories than you burn a day yields weight loss, eating too few calories can be dangerous. Medline Plus advises women to eat a minimum of 1,200 calories per day to avoid nutritional deficiencies.