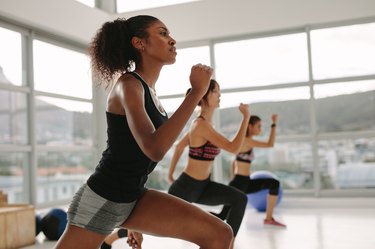 The name Reebok has become iconic in the fitness industry, associated not only with fitness footwear but also with fitness classes. Since the 1980s, Reebok has been a pioneer in aerobics, step aerobics, dance aerobics, strength and flexibility training, and Reebok University was created to provide instructor training for these classes.
But as the fitness industry has evolved, so has Reebok, and the company no longer offers training. If you want to teach aerobics, you can earn certification through one of several nationally recognized organizations.
Certification Process
No matter what type of aerobics you want to teach, you must become certified first. Having a certification shows that you have learned the fundamentals of teaching a group exercise class.
To earn that certification, you have to sign up for a course, study and pass a final exam. Courses require an initial investment, which typically includes study materials. You may also receive bonus materials or online tutorials and videos.
Some certifications are conducted in a workshop format. This requires you to attend a full-day or multi-day workshop, during which you receive hands-on training. At the end of the workshop, there may be a practical exam to demonstrate your knowledge and teaching ability. You will then be certified to teach.
Choosing a Certification
A group fitness instructor is certified to teach many kinds of aerobics classes. This certification will provide you with basic knowledge of anatomy, physiology and exercise science.
It will also prepare you to design classes, including proper warm-ups and cool-downs, exercise order, choosing the right music, applying verbal and non-verbal cuing and providing appropriate modifications to make your classes accessible and challenging.
You can also choose to pursue a more specific certification. For example, you can become certified to teach dance aerobics or step aerobics. Some fitness classes are branded, and you may need to have the specific certification associated with the brand.
For example, Zumba certifies teachers in a one-day workshop led by a Zumba Education Specialist. Depending on where you plan to teach, this standalone certification may be enough; other employers might require you to have a general group fitness instructor certification as well as a Zumba certification.
Certifying Organizations
Many organizations offer general group fitness instructor training. The American Council on Exercise, or ACE, is a well-known and highly regarded certifying organization that has been accredited by the National Commission for Certifying Agencies, or NCCA, which sets standards for the professional credentialing industry.
The American College of Sports Medicine, or ACSM, and the Athletics and Fitness Association of America also offer group fitness instructor certifications, and both are NCCA-accredited.
For branded aerobics classes such as Zumba, you must take a workshop held by Zumba.
Other Requirements
The first and most important requirement for becoming a certified aerobics instructor is a passion for fitness and a desire to help others reach their health and fitness goals.
Second is your certification. To become certified you may be required to obtain certification in cardiopulmonary resuscitation, or CPR, and automated external defibrillator, or AED, prior to taking the final exam. If not, your employer will often require this before you teach classes or within 30 days of employment.