Although a half rack of ribs is smaller than a full rack, this portion is not low in calories. Ribs have a lot of fat, which is the most calorie-dense nutrient with 9 calories per gram. In addition, ribs contain high amounts of protein, although they are low in carbohydrates.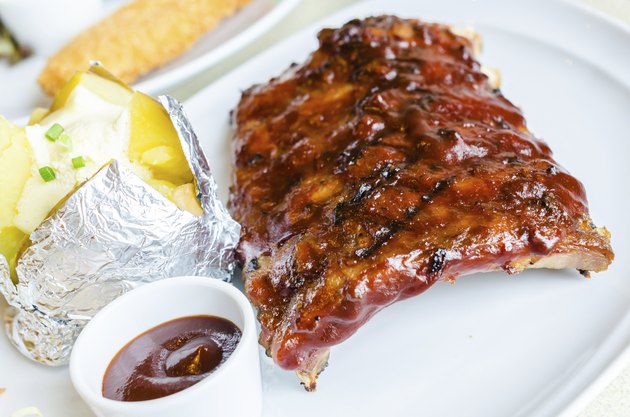 Calories
A half rack of ribs contains 550 calories, which is more than 27 percent of the daily recommended calorie intake based on a 2,000-calorie diet. This makes a half rack of ribs higher in calories than many other meat-based entrees, such as a 6-ounce filet mignon, which provides 350 calories.
Fat
This meal contains fatty meat as well as skin, which also contains fat. As a result, a half rack of ribs contains 37 grams of fat. Of the fat in this portion, 13 grams comes from saturated fat, which may increase your cholesterol levels. The American Heart Association notes that while you should consume between 50 and 70 grams of fat each day, you should limit saturated fat to 16 grams daily. This means that a half rack of ribs provides about 62 percent of your total fat intake, and 81 percent of your saturated fat intake.
Protein
All meat provides protein, and a half rack of ribs provides more than 52 grams of protein, a vital nutrient that provides amino acids, the building blocks of your body's tissues. According to MedlinePlus, you should consume 50 to 65 grams of protein every day.
Carbohydrates
Meat tends to be very low in carbohydrates, and half racks of ribs are no exception. Each half rack of ribs provides just 2 grams of carbohydrates, with no fiber. This may make a half rack of ribs appropriate for low-carbohydrate diets. Although carbohydrates do provide your body with energy, some research suggests that restricting carbohydrates may aid in weight loss. A study published in the July 2008 issue of the "New England Journal of Medicine" found that low-carbohydrate diets were more effective at promoting weight loss than low-fat or Mediterranean diets.