Many people do not consume enough magnesium. This mineral is essential for proper bodily function and may also improve the effectiveness of conventional treatments for a number of medical conditions, including childhood asthma, according to the University of Maryland Medical Center. Feed your children a variety of healthy foods to ensure that they get sufficient magnesium.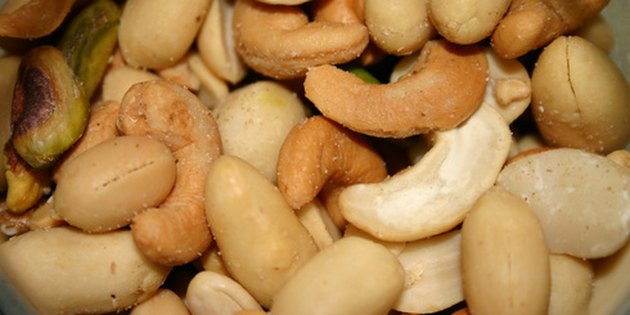 Function
All of the organs in the body need magnesium to function properly. Magnesium is also used by the teeth and bones and for muscle contraction and relaxation, immune system function, producing protein and producing and transporting energy in the body. It is required for a number of enzymes and helps to regulate both your blood sugar and your blood pressure and keep your heart beating steadily.
Dosage
The amount of magnesium children require varies by age and sex. Infants up to 6 months old need 30mg per day of magnesium, and those between 7 and 12 months old need 75mg per day. Children between 1 and 3 need 80mg of magnesium per day, those between 4 and 8 need 130mg per day and those between 9 and 13 need 240mg per day. Boys between 14 and 18 years old need 410mg of magnesium per day, and girls need 360mg per day, unless they are pregnant, in which case they need 400mg per day of magnesium.
Food Sources
Children should get their magnesium from food, rather than supplements, unless these are prescribed by a doctor. Many foods contain magnesium, including apricots, avocados, beans and peas, bananas, baked potatoes with skins, chocolate, green leafy vegetables, nuts and seeds, soy products and whole grains. Because the magnesium is mainly found in the bran and germ of grains, refined grains don't contain much magnesium.
Considerations
Adequate vitamin B6 levels are needed for proper absorption of magnesium, whether from food or supplements. If you give your child magnesium supplements, do not exceed the tolerable upper intake level. For children between 1 and 3 years old, this is 65mg per day. Children from 4 to 8 should not take more than 110mg per day, and children from 9 to 18 should not take more than 350mg per day. Excess magnesium can cause diarrhea, upset stomach, vomiting, nausea, slow heart beat, low blood pressure, confusion and death.