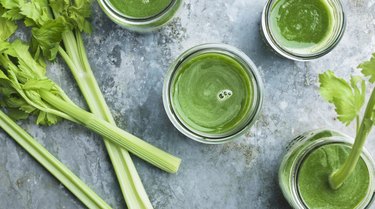 The calories in fruits and vegetables are naturally low, though the vitamin and mineral content can be high. When consumed regularly, these nutrient dense foods contribute to good health. However some fruits and vegetables are lower in calories than others.
According to the United States Food and Drug Administration, a low-calorie food is any food that is 40 calories or less per serving, and fruits and vegetables are low-calorie foods that fill you up. The American Heart Association recommends eating 4 1/2 cups of fruits and vegetables daily. Fruits and vegetables are versatile and can be enjoyed several ways.
1. Celery
Diced celery only contains 19 calories per cup, according to USDA FoodData Central. If you would rather skip the chopping and eat celery whole, one large stalk provides nearly 10 calories. Celery is an easy snack to grab and pairs nicely with reduced-fat dips for a low calorie snack, or peanut butter for a protein boost. Often used in recipes, celery can be added for additional flavor and nutrients.
2. Leafy Vegetables
Leafy vegetables, often used in salads and on sandwiches, can be found in several varieties. One cup of shredded iceberg lettuce provides you with only 10 calories. Butterhead lettuce contains 7 calories per cup. Typically, darker varieties of leafy greens contain more nutrients.
Spinach provides you with 7 calories per cup along with iron, vitamin K, vitamin A, manganese and folate. Kale contains 7 calories per cup; roast kale chips or add kale to soups for more nutrients. Arugula, another type of lettuce, provides you with only 5 calories per cup.
3. Asparagus
One of the richest sources of vitamin K is asparagus. One cup of asparagus provides you with 56 micrograms of vitamin K, which is 46 percent to 61 percent of male and female recommended daily intakes respectively. On top of that, asparagus contains only 27 calories.
4. Broccoli and Cauliflower
One cup of broccoli contains 24 calories and provides you with a source of the essential nutrients iron, vitamin C, folate, vitamin A and vitamin K. Cauliflower, also a cruciferous vegetable, delivers 27 calories per cup.
5. Mushrooms
White mushrooms contain 15 calories per cup. Portabella mushrooms have 19 calories per diced cup. If eating portabella mushrooms whole, such as in a sandwich, one portabella mushroom contains 18 calories. Mushrooms are one of the few foods that provide a natural source of vitamin D.
They are also a significant source of selenium, riboflavin, potassium and niacin. Mushrooms are a great addition to stir-fry dishes and in most Asian dishes.
6. Grapefruit
Most fruits contain more calories when compared to vegetables, due to their high natural sugar content. Half of a grapefruit provides you with 52 calories. Grapefruits are an excellent source of vitamin C.
7. Lemons and Limes
Lemons and limes, often added to beverages for flavor, contain less than 25 calories per 2-inch fruit and contain a significant amount of vitamin C. Although you might not eat them whole, lemons and limes are a great adding to meals and beverages for more flavor and added nutrition.
8. Tangerines
Tangerines, which are in the mandarin orange family, contain about 40 calories per small fruit. As a citrus fruit, tangerines provide you with a significant amount of vitamin C. This low-calorie fruit is a healthy snack choice and a great addition to salads.