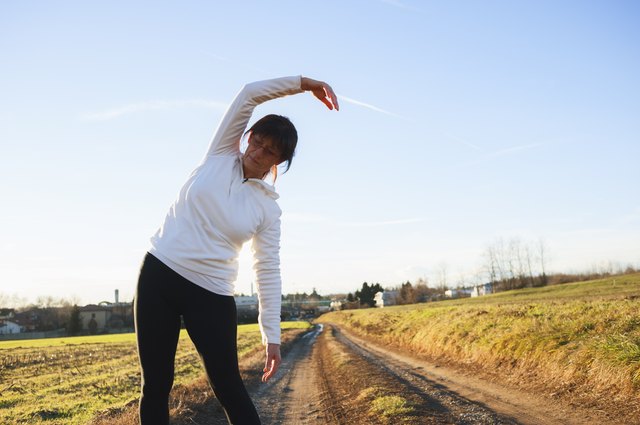 Running is effective at burning calories, strengthening your heart and building muscle on your legs. Many people start to run for the physical fitness benefits but soon find that running offers much more, including relieving stress, boosting confidence and lifting their spirits. As long as you are in good medical condition as a woman who's 50 years old, you're able to start running and enjoy the benefits it offers. A proper execution plan can help you to run with success.
Step 1
Visit your doctor to make sure that your body is in proper health to start a running program. This is especially important if you have lived a sedentary lifestyle or are overweight. Additionally, women in their 50s run a greater risk of showing signs of osteoporosis, which may interfere with running. A full physical will give a complete picture of your current health.
Step 2
Choose your running method. For instance, decide whether to run on a treadmill, either at home or at a gym, on a local track, park or on the street around your neighborhood. Women who are running alone should choose a location that has plenty of light and other people around for safety.
Step 3
Map out your route if you will be running in the park or on the street. Have a clear idea of how long you would like to run for and how much distance you plan to cover. Even if you are running on a treadmill or a track, it is a good idea to have a game plan in mind so that you can strive to meet certain goals and milestones within each workout.
Step 4
Get properly fitted for running shoes. This is an important part of running; the right shoes will help you to get the most out of your run while also avoiding injuries. It is normal for a 50-year-old woman to have imbalances in her feet and body, and the correct running shoes can help to set you on even ground. Visit a sportswear or running store near you to get help in picking out the right shoes.
Step 5
Execute an intermittent walking and running strategy. This is one of the most effective ways for beginners to break into running. Slowly build up your endurance until you can run for your entire workout. Warm up with a brisk 5-minute walk. Then run at a moderate pace for 2 to 3 minutes. Recover with a fast-paced walk for the next 2 to 3 minutes. Repeat the pattern for 25 to 35 minutes. Cool down with a 5-minute walk.
Step 6
Increase the running portion of your run-walk each time you work out. The increase can be as short as 10 or 15 seconds or as long as a minute or two, depending on your ability. Within one to three weeks you may be able to run for 10 to 15 minutes straight without having to slow to a walk.
Step 7
Increase your mileage by no more than 10 percent each week. This is a safe increase that will be challenging, yet help you avoid over-training, burning out or becoming injured. This training program will allow you to slowly strengthen your inner thighs, a weak area for many women, while avoiding a muscle pull or strain.