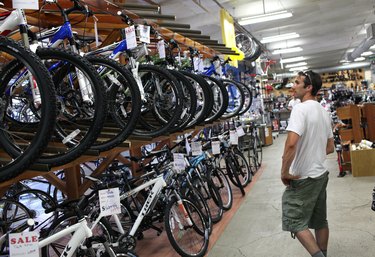 Bike messengers need a ride that's both fast and durable. Although many road warriors get by with single-speed cruisers or ancient 10-speeds, take comfort in knowing you have a quality machine beneath you. Not only will you shave time off of your runs, you'll be able to get out of dodgy situations quickly. The best messenger bikes are hybrids because they offer the speed of a road bike with the strength of a mountain bike.
Specialized Sirrus Comp
Specialized's Sirrus Comp can be a messenger bike on weekdays and a recreational ride on weekends. The lightweight E5 aluminum frame and carbon/alloy fork can handle the most punishing urban terrain. Strip it down and it's century-ready, according to cyclist Ben Van Loon at Bestcovery.com. As of early 2014, the manufacturer's suggested retail price on the Sirrus Comp was $1,190.
Trek Steel District Bike
The Trek Steel District Bike comes with disc brakes for confident stopping power. The $770 Trek Bike features an aluminum frame and Shimano components for zipping through traffic. Van Loon says you'll be happy with the "mountain-style" drivetrain and tough Bontrager rims as well.
Cannondale Bad Boy Disc
Like the Trek Valencia City Bike, Cannondale's Bad Boy Commuter features disc brakes. You'll sacrifice suspension, but what the Bad Boy lacks in smoothness, it makes up for with brute strength. The sturdy Urban 6point3 Composite pedals and tough chain mean you'll spend more time at work and less time in the shop. As of early 2014, the Cannondale Bad Boy Commuter sold for $820.
Jamis Coda Elite
If you're looking for a bike that's nearly indestructible, here's the Jamis Coda Elite. It features a steel frame made from Reynolds 520 tubing, a Shimano Deore/Deore XT drive-train and Avid disc brakes. Van Loon at Bestcovery says the Coda Elite is reliable and stable and will "plow through the streets and trails year-round." As of early 2014, the Jamis Coda Elite retailed for approximately $880.