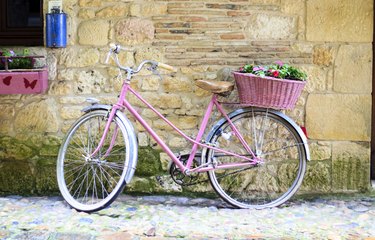 Just like your bedroom or living room, sometimes your bike needs some sprucing up — and a sparkly, new paint color might be just what you need.
But that doesn't mean you have to buy a new bike frame or take it to a bike shop to get professionally painted. You can paint your bike yourself with this step-by-step guide. Learn about different bike paints and how to fix yours up. You'll feel like you have a brand-new bike!
Before you spray paint your bike with a fresh color, prepare the frame with a primer. This step is crucial, as it helps protect your bike from scratches and weather-related damage, like rust. Plus, primer helps paint stick to the frame. Without primer, the paint would quickly start to chip and peel, leaving your frame exposed to the elements.
Different primers require varying numbers of coats, so it's important to read the can for specific instructions. The drying time also varies from primer to primer. Some may take 30 minutes, while others need longer.
Another tip: Not all paint primers are bike-specific but will work with different types of metal. So before you start spraying, read the can to make sure it's compatible with the metal of your frame.
The Best Paint Primers to Try
While you may paint a wall with a can of paint and a brush, you should probably paint your bike with a spray paint in an aerosol can. It's easier to apply, and it's less likely to drip and leave marks on your frame.
As with paint primer, make sure to read the spray paint can before you buy. Make sure that the paint sticks on the kind of metal your bike is made from. Then, when you apply, make sure you're in a well-ventilated area, wearing gloves, goggles and a face mask (more on that below).
While the color you choose is a matter of personal preference, bright, eye-catching colors are ideal, as they make your bike more visible to cars and other cyclists on the road. There are several different paint types you can try:
​Epoxy paint:​ This scratch-resistant, durable type of paint protects against rust and corrosion. It's an excellent finish for metal components.
​Spray paint:​ This is an aerosol paint that's easy to apply and doesn't take too long to dry. It's also the most commonly used.
​Paint and primer:​ Some products are both a paint and primer in one. Also known as direct-to-metal paint, you don't need to apply a separate primer before using this one.
The Best Bike Paints to Try
At the very end, you want to apply a clear top coat to protect your colored paint. But before you apply this layer, read your paint can to see how long it needs to dry.
Let the paint set for several hours or an entire day before applying a layer of clear coat. Apply three coats of clear lacquer spray or clear coat. Again, allow each coat to dry before adding another coat, and let the bike dry for a full 24 hours after applying the last layer of finish.
The Best Clear Finishing Coat
Things You'll Need
Painter's tape or trash bags
Steel wool or high-grit sandpaper
Wet cloth
Paint primer
Bike paint
Top coat paint
Remove the wheels and other attachments from the frame and set them aside.
Cover the other parts on the bike frame with painter's tape or trash bags.
Turn the bike upside down and sand the frame with steel wool or high-grit sandpaper.
Wipe off the frame with a wet cloth and allow it to dry.
Apply 2 to 3 layers of the primer, followed by the main coat, then top coat. For any paint you use, make sure to read the drying instructions, but there are a few general guidelines you can follow:

​Epoxy paint:​ about 30 minutes
​Spray paint:​ between 15 minutes to an hour
​Paint primer:​ 15 minutes or more

Give all the three applications enough time to cure (about 4 hours).
Leave the bike outside to dry (up to 24 hours) before reassembling it.