Nobody likes or wants excess belly fat and the same goes for that extra padding on the caboose. However, it's not unusual to have a surplus around the middle but not enough muscle mass in the rear. Reducing in one area and building up in another may seem contradictory goals but actually their respective requirements are quite complementary.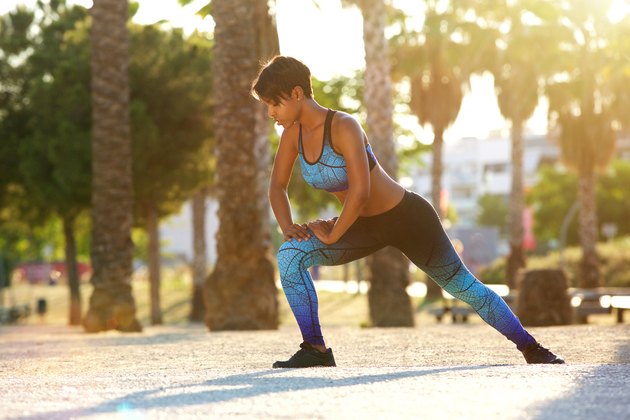 Shedding Belly Fat
There are almost as many good reasons for shedding belly fat as there are for quitting smoking. Risks of cancer, heart disease, diabetes and sudden death all increase dramatically with every additional pound of excess visceral fat, the kind that lives inside of the abdominal cavity. Subcutaneous fat is found under the skin of your belly, too; it's less harmful but harder to lose.
To lose a pound of weight, you need to burn 3,500 calories more than you take in. You can certainly use exercise to create a part of this calorie deficit, but according to the American College of Sports Medicine, combining diet and exercise is more effective than either of the two alone for losing weight.
For the specific loss of belly fat, there's a considerable body of evidence that raising protein intake helps reduce belly fat; according to the journal Nutrition and Metabolism, raising the percentage of calories you eat daily from high-quality protein -- such as lean meats and dairy -- can help facilitate belly fat loss. Protein promotes satiety and protects against insulin resistance, a key factor in putting on belly fat. Sufficient protein also protects you from losing muscle mass while you're losing weight.
The American College of Sports medicine recommends that protein make up from 10 to 35 percent of your daily calories. Lean toward the higher end of that recommendation since you're trying to put muscle on elsewhere.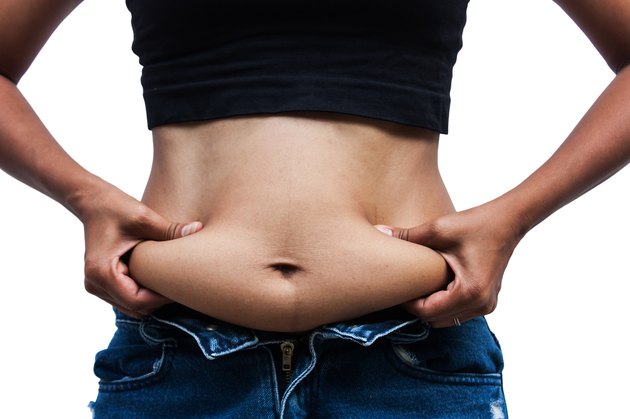 Hit the Step Machine
Cardiovascular training is essential for good health and will help you lose your belly. You can run, walk, play tennis or swim, and all of it will rev up your metabolism, causing you burn more calories naturally as your body basks in this oxygen boost. According to the American College of Sports Medicine, you don't start accruing significant weight loss benefits from exercise until you surpass 250 minutes of moderate-intensity exercise.
Make the step machine or elliptical the centerpiece of your cardio routine and you'll kill two birds with one stone by getting a cardio workout that relies on the muscles in your rear end for power.
Carry that Weight
While it's important to remember that you can't really tell your body where to lose fat, the twin goals of losing belly fat and simultaneously building gluteal muscle are mutually supportive. Build up rump muscle with weight-training exercises that emphasize the glutes. Squats, step-ups, lunges, hip extensions and deadlifts will help you tone and build the enviable booty you desire.
To bulk up, the number of reps you do isn't as important as the amount of time your muscles spend under tension and how much; the key is to pump until you reach temporary muscle failure. However, a good baseline for build your booty is to choose a weight that causes you muscle fatigue after six to eight reps, according to the American Council on Exercise. Work your way up to three to four sets of each exercise to really build muscle in your glutes.
Keep in mind, though, that the body likes balance and it's never a good idea to overwork one part of the body to the exclusion of another. For more information on bulking up, check out the American Council on Exercise's Do's and Don'ts of Building Muscle.