Anorexia nervosa is an eating disorder that involves severe restriction of calories, distorted body image and varied adverse effects on the body. Serious health consequences from anorexia include heart arrhythmia, osteoporosis, anemia, neurological and gastrointestinal problems and liver damage. Elevated liver enzymes are a frequent complication with anorexia and indicate that the liver cells are damaged or inflamed. Alanine transaminase (ALT) and aspartate transaminase (AST) are the two liver enzymes most commonly found elevated in blood tests.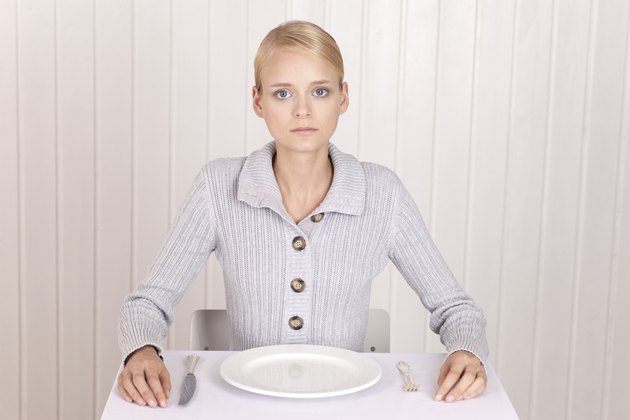 Organ Failure
Elevated liver enzymes can be a warning sign that multi-organ failure is occurring in someone with anorexia. Organ failure can happen because of prolonged calorie restriction, whereby the organs go into failure because of malnutrition. If liver enzymes are elevated with anorexia, calories should be administered as quickly as possible under medical supervision.
Starvation
Prolonged starvation that occurs with anorexia causes the body to increase the breakdown of muscle and fat cells used for fuel. These cells are sent to the liver for conversion to glucose. The increase and amount of fat sent to the liver can cause inflammation and liver damage. This damage, which can lead to non-alcoholic fatty liver disease, may cause elevated liver enzymes.
Iron
Women who are anorexic may stop menstruating as a consequence of this disorder. Dehydration may also occur, and the combination of the two can put women at risk for having too much iron in their bodies. Heart and liver damage occur from an excess of iron, as iron is stored in the liver. This may lead to elevated liver enzymes, indicating that the liver is damaged.