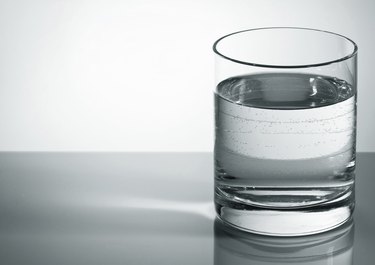 If you are on a salt-restricted diet, you might want to reduce the amount of sodium being released by your water softener. If you are maintaining a saltwater fish tank, you will want to keep the salt at a level for optimum fish health. A tool, called a hydrometer, is used for at-home measuring of sodium levels.
Similarly, if you're looking to increase sodium levels in your food and water, you can use a hydrometer to help measure this out.
Step 1
Fill a glass with water. Stir the water gently to remove air bubbles. Let the water sit until it reaches room temperature.
Step 2
Place your hydrometer in the water until you feel it reaching an equal pressure. Release your grip slowly and allow the hydrometer to settle into position. Look at the reading, but do not record it.
Step 3
Push gently on the hydrometer to lower it a few millimeters and release slowly until it settles into position. Look at the reading and record the number where the flat, horizontal line of the water crosses the hydrometer.
Step 4
Seek a reading between 1.0256 and 1.0271 for optimum saltwater, or ocean density water. Seek a reading of 1.000 for zero salt in your drinking water.
Step 5
Thoroughly rinse your hydrometer for future use.
Tip
You can also check the sodium content of bottled water with your hydrometer.