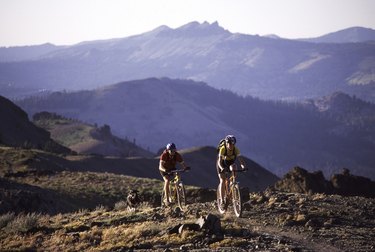 Giant Bicycle Inc. first developed their Women's Sedona model in 2007, and have continued to manufacture it every year since. Considered a hybrid bike, it's designed for women to use for both on- and off-road biking. Ergonomically-designed to suit women's body shape, the bicycle comes in three sizes and an array of colors. Suggested retail price in 2014 for a new Women's Giant Sedona bike runs approximately $340 to $400, depending upon the retailer. Due to manufacturer restrictions, consumers must order and purchase the Sedona directly from a bike shop, rather than Online.
Multi-Purpose
Giant primarily focuses marketing for the Sedona around the bicycle's multi-purpose usefulness. Hybrid bikes such as the Sedona feature a blend of characteristics akin to both road and mountain bikes. The manufacturer touts the Sedona as the "queen of versatility" which cyclists can use on bike paths, dirt paths or slightly rougher terrain. The bike works well for a number of uses, including sport, cruising and commuting.
Features and Components
Giant created the Sedona with a light, durable aluminum frame, 21-speed drivetrain and 26-inch tires, features commonly used in hybrid bicycles. The manufacturers engineered the Women's Sedona bike with female-specific components, including a low cut in the front for ease of mounting and dismounting; the Giant Comfort seat, a woman-specific saddle with extra cushioning for added comfort; a front suspension system for comfort and smooth riding. The Sedona comes in a variety of colors, as well, including black/berry, white/silver, pink/white and white/turquoise.
Sedona's Specs
Giant offers the Women's Sedona in three sizes: XS, S and M. Consumers should visit their local bike shop for proper sizing. The bike features an ALUXX-grade aluminum frame; high-tensile steel handlebars with ergonomic grips for hand-support and comfort; alloy brakes, rims and hubs; and a Shimano TZ31, 7-speed drivetrain or cassette, which allows for 21 gear options. Giant also engineered the bike with a lockout on the fork, which allows riders to adjust the front suspension for smooth riding when traversing on rougher terrain.
Geometric Considerations
The manufacturers took the geometric dimensions into consideration when designing the Sedona for women. Depending upon the size of the bike, the seat angles forward at 70 to 73 degrees to allow for a balance and a better riding stance. The bike's 7.1-inch head tube allows women of smaller stature to comfortably reach the handlebars. Giant also created the Sedona with a low, 25.2- to 26-inch stand over height for ease of mounting for short-statured women. Note that Giant has slightly changed the dimensions several times since the Sedona was first released. Speak to your bike shop sales clerk about the exact specifications of the Sedona you're considering before purchasing.