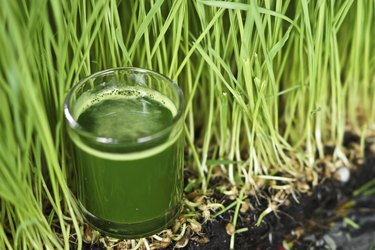 Diabetes is a metabolic disorder characterized by inadequate production of insulin. Insulin is a hormone produced by pancreas and has a key role in controlling blood sugar levels. Type 2 diabetes is also frequently associated with excess weight and high blood levels of fats. Wheatgrass, scientifically known as Triticum aestivum, is a herb from the wheat family. Wheatgrass is a natural source of vitamins A, C, E, K and B complex and minerals like iron, calcium, magnesium, selenium, amino-acids and chlorophyll, according to Memorial Sloan-Kettering Cancer Center. For medicinal purposes, the juice from wheat grass leaves usually is consumed in the raw form.
Folk Medicine
Because wheatgrass is rich in healthy nutrients, this herb has been proposed for improving a variety of health conditions, from boosting immune system and antibacterial activity to colon detoxification, diabetes and cancer. However limited clinical studies confirmed these health benefits.
Research
Wheatgrass has a definite role in improving glucose and lipids levels and can effectively be used in the management of diabetes, suggests a research team in a study published in December 2009 issue of "Journal of Herbal Medicine and Toxicology." This study was conducted on 30 volunteers and wheatgrass was added to one meal. Glycemic index or GI is a number that measures the impact that a food has on blood glucose levels and diabetics should consume low GI foods. The researchers found that adding 15 g of wheatgrass to certain foods significantly lowered the GI of those foods and thus improving blood glucose levels. The blood levels of some fats called triglycerides were also improved in the participants who consumed wheatgrass. Larger studies are warranted to confirm these clinical findings. Michael M. Murray, ND, author of "Beat Diabetes Naturally: The Best Foods, Herbs, Supplements, and Lifestyle Strategies to Optimize Your Diabetes Care," also suggests the consumption of wheat grass by diabetics.
Safety
Wheatgrass has an excellent safety profile and is well tolerated. Rare side effects include mild nausea and headaches. Wheatgrass may cause allergic reactions in susceptible individuals, thus you should not consume this herb if you have allergy to wheat or grass or celiac disease. The safety of wheatgrass is not fully assessed during pregnancy or lactation, so it should not be consumed by women who are pregnant or breastfeeding.
Considerations
Consult a qualified health-care provider to find out optimal dosage of daily wheat grass that may help improve your condition. Wheatgrass does not replace and should not be used to replace any medication you are currently taking.