Usually, beneficial bacteria and pathogenic bacteria--the unhealthy kind--peacefully coexist in your digestive system. The beneficial bacteria act as watchdogs over the pathogenic variety, resulting in a properly-functioning digestive tract. Ideally, the balance is 80/20, with the beneficial bacteria being in the majority. However, several things can alter this balance, including stress, poor diet and antibiotic medications. The idea of taking probiotic supplements to restore the ratio and improve health is gaining in popularity.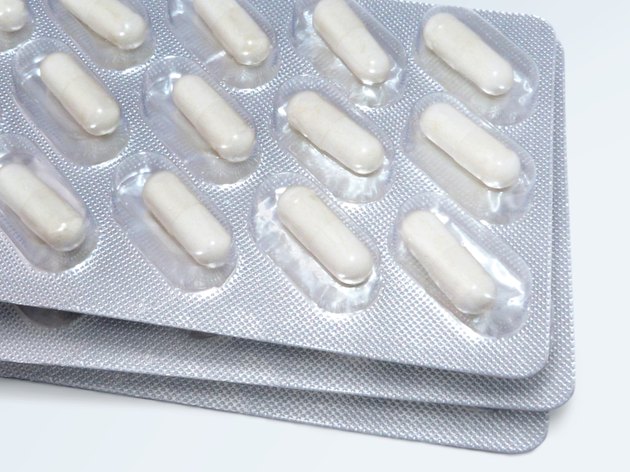 Strains
Lactobacilli and bifidobacteria have both shown an ability to survive the trip to your intestines, where they are able to destroy excess bad bacteria gathered there. Within the lactobacilli and bifidobacteria strains are several different species. When you purchase a probiotic, read the label to find out if the microorganisms are alive or freeze-dried. They have to be one or the other to do you any good. If they're live, the label should give you instructions for keeping them way, possibly by refrigeration.
Dosage
Different brands of probiotics can contain anywhere from one to 10 billion colony-forming units or CFUs. To maintain a healthy digestive tract, a probiotic with one to two million CFUs is recommended. However, if you are taking antibiotics, or if you have symptoms of a bacterial imbalance such as diarrhea, you can take a probiotic with up to 10 billion CFUs until the problem clears up. Probiotic brands differ as to how many CFUs they contain. You should not take five probiotic capsules containing two billion CFUs because this may not give you the proper balance between strains. If you're having a problem and need more CFUs, you should always purchase a brand that contains that many in one capsule.
To maintain microorganism balance, take a probiotic of one to two million CFUs daily or every other day. To correct a problem, probiotics containing 10 million CFUs can be taken daily for up to two weeks.
Overdosing
It's possible to overdose on probiotics if your digestive tract is healthy and functioning as it should when you start taking them. It's also possible to have a reaction by taking one that contains more CFUs than your system needs. Common side effects of this include gas or a feeling of bloating. You might even feel some abdominal tenderness or pain. If this happens, stop taking them, then begin reintroducing them into your system again in smaller doses and work up to the point where they start giving you problems. You'll then know what your threshold is.
Warnings
Probiotics may interact with certain medications, so you should talk with your doctor before taking supplements. As well, if you have a condition that affects your immune system, your doctor may not recommend probiotics. People who have artificial heart valves have an increased risk of bacterial infections when taking probiotics, says the University of Maryland Medical Center.