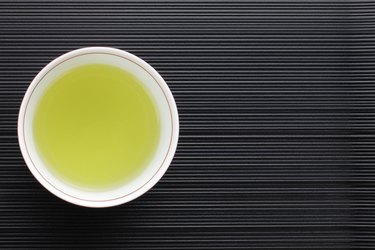 Among the health benefits of decaf green tea are its antioxidant effects, ability to enhance memory and help you shed fat. There are also several advantages to drinking decaf tea in particular opposed to caffeinated tea, especially if you're sensitive to caffeine side effects.
Green Tea Overview
According to Harvard Health Publishing, green tea comes from a plant called Camellia sinensis, grown in mountainous regions of several countries, including China and India. To prepare green tea, the leaves of the Camellia sinensis plant are lightly steamed to stop oxidation. Black tea also comes from the same plant, though it is prepared differently.
The National Institutes of Health (NIH) explains that green tea, which is generally consumed as a beverage or in a dietary supplement, has a medicinal history, dating back thousands of years in China and Japan. Nowadays, green tea is still used for medicinal purposes, to relieve headaches, digestive symptoms or induce weight loss.
Though there hasn't been much conclusive data on the effects of green tea, some studies have pointed to benefits, while other research has raised safety concerns. They highlight decaffeinated green tea side effects. A small amount of people who took green tea supplements reported liver problems, says NIH, and green tea may reduce the effectiveness of nadolol, a beta-blocker used for high blood pressure.
Decaffeinated Green Tea Benefits
Certain studies have demonstrated the benefits of decaf green tea. A January 2015 study in the Journal of the International Society of Sports Nutrition with a small sample size of 14, found that those who were given a decaffeinated green tea supplement over a 4-week period, had a decrease in body fat compared to the placebo group.
Other studies have detailed the benefits of green tea, both caffeinated and decaffeinated. One March 2018 study in the Journal of Nutrition, Health and Aging, with a small sample size of 20 women, found that decaffeinated green tea extract can enhance the working memory capacity of women between the ages of 50 and 63.
A June 2011 review in Molecular Research & Food Research describes the antioxidant effects of green tea which help prevent certain chronic diseases, including cancer. According to the study, these antioxidant effects are mostly due to molecules in green tea called polyphenols.
Advantages of Decaf
First, it should be noted that decaf tea doesn't necessarily mean that the tea is completely free of caffeine. The U.S. Food and Drug Administration (FDA) explains that decaf beverages still contain some caffeine. For example, an 8-ounce cup of decaf coffee could contain up to 15 milligrams of caffeine.
For those sensitive to caffeine, it might be best to skip coffee or green tea altogether. If you're moderately sensitive to caffeine, you may find many advantages in drinking decaf tea opposed to caffeinated tea.
First and foremost, you wouldn't necessarily experience the same side effects brought about by caffeine, such as nausea, insomnia, the jitters, rapid heart rate, anxiety and more.
You'd also avoid the risk of a caffeine overdose, which can have serious consequences and in extremely serious cases could result in death. Moreover, highly concentrated caffeine products, such as dietary supplements could pose dangerous health risks.