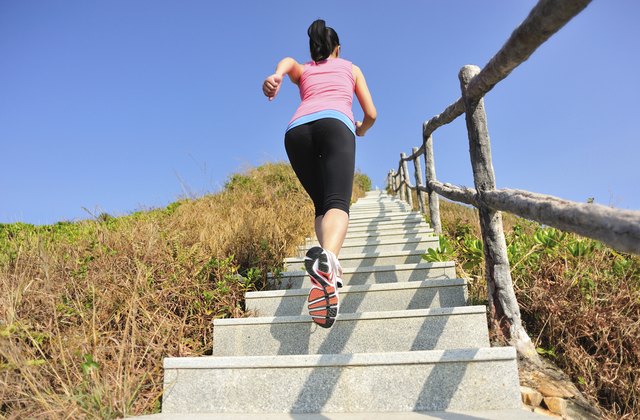 Stair climbing is an excellent workout that benefits your heart and increases your leg strength. Georgia State's Department of Kinesiology and Health notes that stair climbing works multiple muscles in your bottom half, including your calves, glutes, hips, hamstrings and quadriceps. Because climbing stairs repeatedly works your leg muscles, it will "result in changes in the size and shape of the muscles of the lower body," notes the American Council on Fitness.
How It Works
Using a muscle strengthens it and causes it to grow, especially when you force it to work under sufficient weight, or "overload" it, explains the American Council on Fitness. Stair climbing provides strength training: Your physical activity focuses on your leg muscles, and your legs experience overload by pulling sufficient weight -- your body weight. Walking, jogging or running also uses your legs, but it focuses more on toning muscles and strengthening the heart. Although climbing stairs also works your heart, it uses your legs more strenuously and hence tends to build more muscle.
Considerations
Women build muscle less easily than men, so if a man and a woman both climbed stairs at equal speeds for equal amounts of time, the man would probably build more muscle. Some women inaccurately believe that they will not gain muscle at all, even while doing strength-training. Climbing stairs will, in most cases, build at least a little bit of muscle -- depending on the frequency, length and intensity of the stair-climbing workout. Even among women, the American Council on Fitness notes, muscle-building varies. Some women's bodies respond well to strength training exercises, such as stair-climbing, by building muscle quickly; others' respond slowly, and still others will never gain a significant amount of muscle.
Minimizing Muscle Gain
If you don't want to gain much muscle, you can tweak the way you climb stairs to experience a better aerobic exercise without building a lot of muscle mass. If you work out on a stair-climber machine, the American Council on Fitness suggests using a lower step height. If you climb on actual stairs, then climb more slowly. Your heart rate won't go as high, but you will still get an aerobic workout, and you might even burn more calories because you can sustain your exercise longer. Using your muscles more times, but with less weight or impact, tends to tone muscles rather than build muscle mass.
Other Benefits
Stair climbing provides a triple workout because it strengthens your heart, your leg muscles and even your bones. Because your legs bear a load -- your body weight -- while working vigorously, your leg muscles pull against your leg bones. In response, according to a web page on the University of Arizona's website, your bones strengthen and become denser. Accordingly, stair-climbing not only makes your legs stronger, it also helps prevent osteoporosis. Stair-climbing provides aerobic exercise as well as strength training -- in other words, it raises your heart rate and increases endurance.