Running is generally defined at a pace of at least 10 minutes per mile. Anything slower is defined as jogging. Runners who race can determine their maximum heart rate by taking 220 and subtracting their age. Generally racers calculate a percentage of this maximum heart rate to plan their workouts. If you prefer to run and lower your heart rate for medical reasons or to boost your fat-burning level, there are a few ways to do that.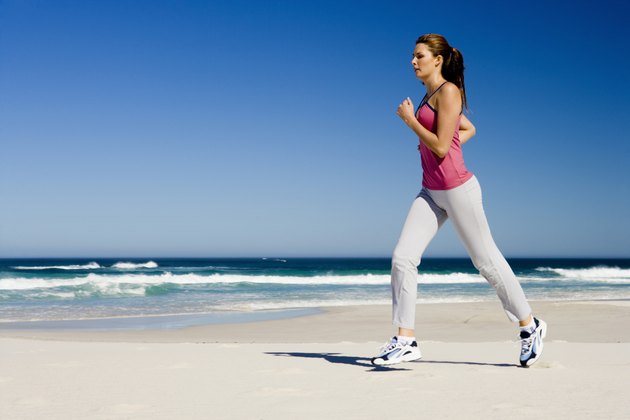 Step 1
Decrease your running speed. This means that instead of running at an eight-minute mile, slow down to a 10-minute mile. Check your pulse after you have been running for at least 15 to 20 minutes to gauge where you are exactly.
Step 2
Lower your arms to reduce your heart rate. Were you to pump your arms raised at chest level running, your heart rate will increase as you are moving your arms at or above the level of the heart, creating a greater level of exertion. To lower your heart rate, lower your arms so they swing closer to your hips or even lower as you run.
Step 3
Run on flat terrain outdoors or with no hills or inclines on a treadmill to reduce your overall exertion and also lower your heart rate. This will become immediately obvious when you take your heart rate while running up a hill outdoors and again running on flat ground. Any incline will elevate the heart rate. Generally, people who run will be working at a heart rate that is about 70 percent of their maximum heart rate, depending on their age and fitness level.
Tip
Wearing a heart rate monitor during your run provides instant feedback about your current heart rate, which helps you avoid the process of taking your pulse.
Warning
Certain medications can cause an unhealthy rise or drop in your heart rate. If you take medication, consult your doctor to ensure running is safe for you.