Bodybuilders follow a detailed training program combined with a strict nutrition plan to maximize results and muscle mass. Within the nutrition plan, each macronutrient -- carbohydrates, fat and protein -- are broken down into specific amounts and percentages. Responsible for energy production and recovery, carbohydrates play an important role in a bodybuilder's nutrition plan and the starchy complex carbohydrates found in potatoes meet those demands.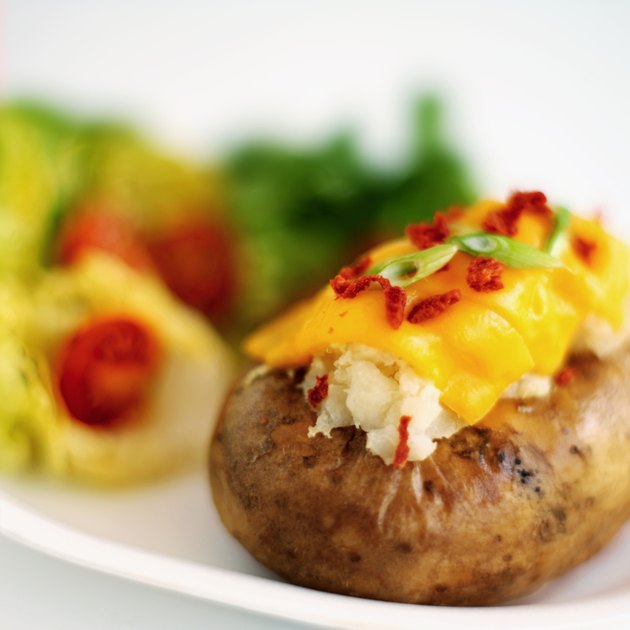 Calories
Bodybuilders require a large number of calories throughout the day to promote muscle development while supporting the large body size. With no fat or cholesterol and only 2 grams of protein, potatoes are mainly used for calories and carbohydrates. One potato provides 110 calories along with significant amounts of carbohydrates to meet the macronutrient requirements.
Carbohydrates
The carbohydrates in potatoes provide an essential energy source and nutrients for recovery for a bodybuilder. Anthony Catanzaro, professional bodybuilder, recommends eating a mixture of sweet potatoes and baked potatoes throughout the day as a primary source of carbohydrates. Catanzaro aims for a total of 400 g of carbohydrates throughout the day and one potato provides 26 g of total carbohydrates. Along with the 26 grams of total carbohydrates, one potato provides 2 grams of dietary fiber and only 1 gram of sugar.
Nutrients
Micronutrients such as vitamins and minerals found in potatoes support healthy body functions that improve the ability to develop muscle mass. Potatoes are a good source of various vitamins and minerals including thiamin, niacin and magnesium, but they provide significant sources of vitamin C, vitamin B-6 and potassium. Vitamin C is an antioxidant that promotes recovery between workouts while vitamin B-6 plays a role in the metabolism of amino acids and protein for muscle development. Potassium is an electrolyte used for proper muscle function.
Timing
Consuming adequate amounts of carbohydrates and potatoes is important, but following a detailed time frame is crucial to the overall impact of the carbohydrates. Throughout a typical day of training, Catanzaro will consume baked potatoes and sweet potatoes for three meals. A mid-morning pre-workout meal will consist of grilled chicken and a baked potato. Meal five takes place in the early evening and consists of grilled chicken, sweet potato and steamed broccoli followed with meal six in the evening with lean steak, salad and a baked potato.