Slimfast offers a simple diet program called the 3-2-1 plan. You are allowed three 100-calorie snacks, such as fruits and vegetables or a Slimfast snack bar; two shakes or meal bars; and one 500-calorie balanced meal, for a total of 1,200 calories per day. When you don't have time to snack between meals, you can have your shake with or as a meal. A shake, which comes premade or in powdered form, offers 10 to 15 grams of protein, 5 grams of fiber, and an array of other vitamins and minerals. Blend Slimfast shakes with other healthy ingredients to up the nutrition and the flavor without adding many calories.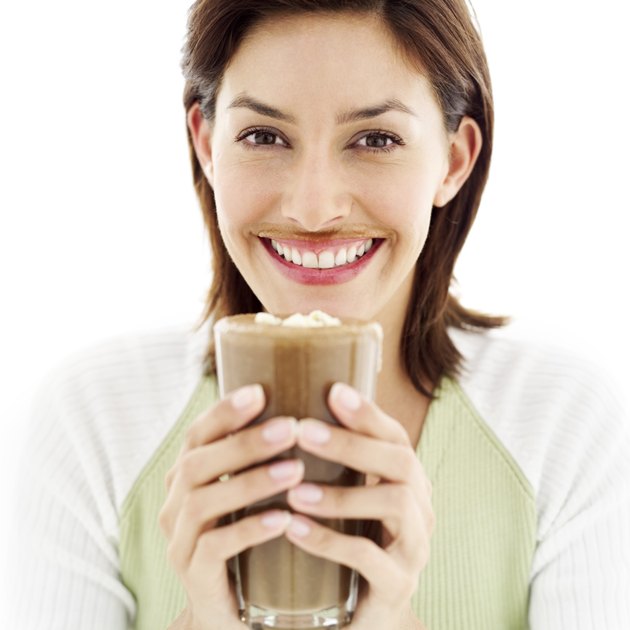 The Basic Shake
Step 1
Pour one level scoop of powdered shake mix of any flavor into a tall glass. Pour 8 ounces of fat-free milk over the mix and stir to combine. Prepared with skim milk, a Slimfast shake has 200 calories.
Step 2
Blend the powdered mix with 8 ounces of milk, or prepare a premade shake with half a cup of ice, for a thicker drink.
Step 3
Serve in a chilled glass and sip through a straw to make your shake last.
Experiment with Flavors
Step 1
Blend 2 teaspoons of creamy peanut butter, half a banana, one scoop of milk chocolate powdered shake mix, 8 ounces of fat-free milk and a cup of ice cubes to replace a meal and one 100-calorie snack. Peanut butter is a good source of protein, which will help you stay full. Alternately, mix 1 tablespoon of peanut butter into a premade chocolate shake for a 300-calorie beverage -- the equivalent of one meal and one snack.
Step 2
Blend frozen berries with a vanilla shake mix and skim milk. A half cup of frozen blueberries contains only 40 calories, and contributes 2 grams of fiber, 2 milligrams of vitamin C and about 13 micrograms of vitamin K.
Step 3
Mix powdered shakes with even lower-calorie milk options, instead of the non-fat milk recommended by Slimfast. Choose unsweetened almond milk, for example, which has only 30 calories per cup and 50 percent more calcium than dairy milk. It is also an excellent source of vitamin E.
Things You'll Need
Tall glass

Straw

Milk

Ice

Fruit

Peanut butter

Blender
Tip
Some dieters may regain weight after they complete the Slimfast program. Talk to your doctor or dietitian about ideas for healthy weight maintenance.
Warning
Talk to your doctor before beginning any diet program.