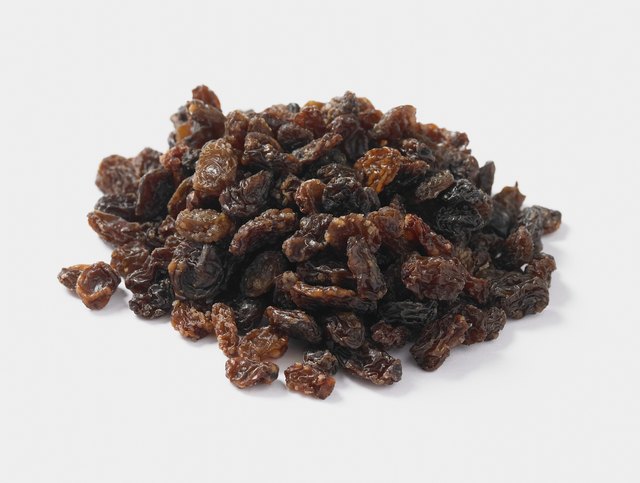 Raisins make up part of the fruit group under USDA guidelines, and each half-cup of raisins contributes 1 cup toward your daily fruit goal, which is at least half of your recommended fruit intake, depending on your age and gender. They're also a source of essential nutrients, so raisins are a healthy addition to your diet. Just watch your portion size, especially if you're following a weight loss diet -- raisins are higher in calories per serving than many fruits, including fresh grapes.
Raisin Nutrition Information
Any half-cup serving of raisins -- golden, or regular seedless or seeded -- will set you back 240 to 245 calories, or about 12 percent of your daily limit on a 2,000-calorie diet. Most of those calories come from carbohydrates, including natural sugar. Regardless of which variety you choose, you'll get about 65 grams of carbohydrates in a half-cup serving of raisins. Raisins have about 50 grams of natural sugar per serving. Raisins are low in protein, offering less than 3 grams per serving, and they're low-fat, at less than half a gram of fat per half-cup. If you choose sweetened or flavored varieties of raisins, you might take in even more sugar -- always check the nutrition label to ensure you're buying unsweetened raisins to avoid added sugar.
Diet Benefits of Raisins
For your calorie investment, you'll get a significant amount of potassium -- 13 to 14 percent of your daily needs -- a mineral that supports heart health, helps your nerves work properly, and activates enzymes your cells need to process carbohydrates. Raisins also provide significant amounts of copper, manganese, phosphorus and iron. If you choose seeded raisins, you'll also up your fiber intake.
A half-cup serving of seeded raisins has almost 6 grams of fiber, or 23 percent of your daily needs, while seedless raisins offer 12 to 13 percent of your daily recommended fiber intake. Like potassium, fiber supports cardiovascular health, and it's also beneficial for weight control.
Raisins on a Weight Loss Diet
Raisins have some potential benefits for weight loss. A study, published in Nutrition Research in 2011, looked at the effect of dried fruit consumption on body weight, and found that people who ate more dried fruit were more likely to have a lower body weight and BMI, plus a smaller waist size.
But raisins' high calorie content can make them hard to work into a calorie-controlled diet. If you're trying to lose weight and you can only eat 1,500 calories, for example, a single serving of raisins will take up 16 percent of your daily limit. They have a higher energy density -- number of calories per gram -- than fresh grapes, which contain just 104 calories per cup. Eating lower-energy-density foods can make it easier to lose weight, according to Penn State University, so choosing fresh grapes over raisins some of the time might help you lose weight.
Healthy Serving Tips and Suggestions
Raisins offer concentrated sweet flavor, minus any processed or refined sugar, so they can add flavor to healthy foods like oatmeal. Add a handful of raisins to your oats as they cook -- this allows them to swell with water, plump up and release their natural sweetness. A mixture of raisins and cinnamon, plus a splash of unsweetened almond milk, makes a delicious "raisin bread" flavored oatmeal. Or, combine raisins, cashews or almonds, peanuts and cacao nibs or cacao powder in your food processor and pulse until combined. Shape the resulting mixture into bars for an all-natural "cookie dough" energy bar that doesn't contain artificial sweeteners or preservatives.