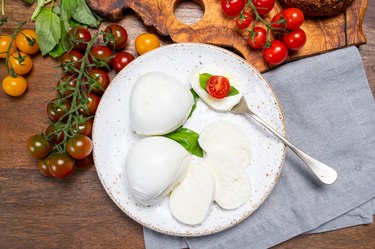 While it may sound cheesy, love comes in many forms — shredded, sliced, melted. And if you're a cheese lover with high blood pressure, you might wonder how it fits into your diet, and which cheeses are best. Here, we slice and serve the best cheese choices for a high blood pressure diet.
High Blood Pressure Diet Basics
In its guide to lowering blood pressure (BP), the National Heart, Lung, and Blood Institute (NHLBI) says you have high blood pressure — aka hypertension — if your BP readings are consistently above 140/90 millimeters of mercury. As such, your heart has to work too hard, which causes hardening of your arteries and increases your risk of such leading causes of death as heart attack or stroke.
The good news, according to NHLBI, is that you can help lower and maintain your target BP (below 120/80) through your food choices. One specific heart-healthy diet recommended by the NHLBI for blood pressure is the Dietary Approaches to Stop Hypertension (DASH) diet.
Current guidelines from the American College of Cardiology and the American Heart Association published in October 2018 in ​Circulation​ also recommend this high blood pressure diet as the first step in reducing blood pressure.
According to December 2017 research in the ​Journal of the American College of Cardiology​, eating a DASH diet that's also low in sodium reduces blood pressure even more than a standard DASH diet in people with high blood pressure. So choosing lower sodium cheeses can be even more beneficial to your health.
Best Cheeses for High Blood Pressure
Swiss, feta and Parmesan top the list for cheese choices, according to Meadville, Pennsylvania-based registered dietitian and ​DASH Diet for Two​ cookbook author Rosanne Rust, RDN, LDN. She notes that "2 tablespoons per serving provides the flavor boost with minimal sodium."
Rust also recommends that you choose ricotta cheese over regular cottage cheese or — if you must have real cottage cheese — look for no-salt-added low-fat cottage cheese. "Some cottage cheese is actually pretty high in sodium compared to ricotta or hard cheeses," she explains. And, ultimately,, when considering the best cheese for high blood pressure, Rust says you should read labels, compare brands and be mindful of portion sizes.
The Cleveland Clinic adds fresh mozzarella to the list of lower sodium cheeses you can enjoy, but notes that processed and hard cheeses, like cheddar and muenster, and cheese spreads should be avoided.
While cheese can be a healthy option for your blood pressure if you eat it in moderation, consider how you eat it. Foods like pepperoni pizza or a burger with American cheese are not the healthiest options. Instead, pair small amounts of cheese with other DASH foods like fruits, vegetables and whole grains.
For example, smear a bit of part-skim ricotta on whole grain toast or have a slice of Swiss with fruit.
Giving you the greenlight for that cheese fix, as outlined by the NHLBI, DASH is a whole-food eating plan high in fruits, veggies and whole grains that includes lean proteins, nuts, seeds — plus two to three servings of low-fat dairy foods (cheese, please!) each day. The key is choosing the best cheese varieties for your health — and limiting your serving size to 1 1/2 ounces per serving.
And of the various foods on the DASH diet plan, cheese contributes a good deal of calcium. In fact, the Office of Dietary Supplements lists cheese as a top source of that essential mineral, which regulates how your blood vessels dilate and contract.
And per an October 2018 study published in the ​Journal of Hypertension​, life is gouda for you cheese lovers looking to lower your blood pressure. After analyzing the diets of 4,680 people over a three-week period, researchers found full-fat dairy foods had no effect on blood pressure, while low-fat dairy options like low-fat cheeses were linked with lower blood pressure.