If you're a cheese lover trying to shave fat from your diet -- you're in luck. Low-fat cheeses aren't all rubbery, tasteless excuses for the real thing. Choose naturally low-fat cheeses or strongly flavored, reduced-fat options for the best in taste and texture. Even the best reduced-fat cheeses will act differently than their full-fat counterparts when melted and may have inferior nutritional content, so be aware of potential implications of substituting them in recipes.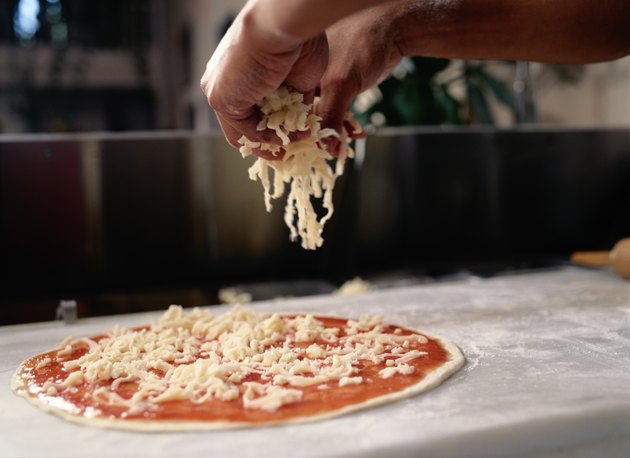 Feta
Some of the best low-fat cheeses come that way naturally. Feta cheese, a Greek crumbly variety, contains 6 grams of fat per ounce -- compare this to the 9 grams you find in cheddar or the 8 grams in Swiss. Use it crumbled over salads or melted onto a pita with tomato slices for a low-fat pizza. Feta does contain less protein than hard varieties, though -- just 4 grams per ounce versus 7 to 8 grams in full-fat hard cheeses. Low-fat feta trims about half of the fat grams -- leaving you with just 3 per ounce -- and minimal compromise in flavor.
Ricotta
Ricotta is another soft cheese that is naturally low in fat. Whole-milk varieties provide 4 grams of fat per ounce and part-skim -- or low-fat -- varieties provide 2 grams. Ricotta may not be a replacement for hard cheeses on nachos or in a sandwich, but you can mix it with berries and a drizzle of honey to eat as a dessert. Spread it on toast in lieu of cream cheese, or add it to pasta to make a creamy sauce.
Mozzarella Sticks
Low-fat mozzarella makes a good snacking cheese. The sticks, labeled "part-skim," contain just 6 grams of fat; they provide 7 grams of protein with 86 calories and just over 200 milligrams of calcium. Shredded part-skim mozzarella also melts well on a homemade pizza or in a grilled cheese sandwich with minimal flavor compromise.
Hard Cheese
When you want reduced-fat varieties of hard cheese, such as cheddar and Swiss, look for the types labeled "2 percent" to get the most authentic flavor and taste. When the fat is reduced by 50 percent or more, the texture of the cheese suffers, and it may include ingredients not found in full-fat cheese. Reduced-fat cheddar also suffers in terms of its calcium content. The full-fat variety generally contains about 815 milligrams per ounce, while the reduced-fat offers just 213 milligrams. Imported varieties from Ireland may have a superior flavor and texture compared to domestic versions that have added coloring and decaking agents.
Label Reading
The best reduced-fat cheeses have minimal added ingredients, moderate levels of sodium and plenty of bone-building calcium. Spiced-up flavors, such as pepper jack or tomato-basil feta, have lots of flavor, but often come with 20 percent more sodium than their full-fat counterparts. The fat you save with reduced-fat cheese may not be worth the compromise in texture, taste and nutrition.