If you ride your bike for exercise or endurance training, rather than for casual jaunts around your neighborhood, you may have found your legs feeling tired and weak at times. That feeling can be frustrating, especially if you're anxious to get back your bike or engage in another activity. In most cases, tired legs from cycling are the result of overuse, insufficient rest and possibly inadequate nutrition or hydration to keep your legs feeling fresh.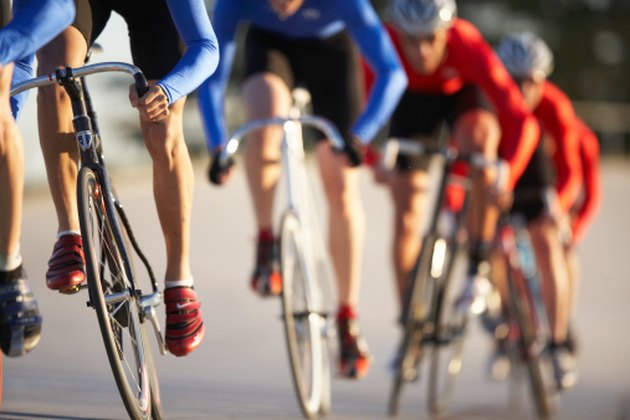 Overuse
If you've stepped up your cycling routine and are finding your legs increasingly tired, you may have simply taken on too much too soon. As with any workout, increasing the intensity or length of your rides should be done on an incremental basis. If you normally ride 50 miles a week, don't jump to 100 one week. Add 10 miles a week and let your body become accustomed to the increase. And if you haven't ridden in years, start out with shorter rides and see how your legs respond. Tired legs, particularly after the exertion of a bicycle ride or long walk or run, can also be a sign of a circulation problems known as peripheral artery disease. PAD means blood vessels away from the heart have narrowed due to plaque build-up and make your legs tired or sore with activity.
Boost Leg Circulation
Bike tours that seek to cover hundreds of miles in a few days or a week can be fun and allow you to enjoy the landscape and fresh air in ways you never could from a car or plane. But at the end of a day of riding, with another day or more left on the tour, you should consider a couple of measures to boost circulation in your tired legs. Try riding a stationary bike, if one is available, at a pace that allows you to talk freely. A sports massage may also inject some energy in tired legs. By making sure your blood is flowing freely and efficiently, you're helping your circulation system rid your bloodstream of waste products that may be sapping your strength.
Get Rest
Tired legs are your body's ways of telling you to get more rest, not that you should be training harder. Ultra sports participant and event organizer Chris Kostman says, flat out, that training on tired legs is "a waste of time." You won't get as much out of a workout on tired legs and if your legs really just need to recover, riding more will only prolong your recovery.
Prevention
Understand that tired legs at the end of a long ride are normal, but you can reduce the feeling of fatigue by making sure you drink enough water before, during and after your ride, and by making sure you get enough potassium to help your muscles recover from the strain of cycling. Bananas, potatoes and sweet potatoes, orange juice and tomatoes are all good, natural sources, though you need to cook the potatoes with the skin on them to retain the potassium. And make sure you stretch your leg muscles before and after your ride to make sure they're ready for the exertion.