If you push yourself when cycling, leg fatigue is inevitable. But the more you train, the more endurance you'll build — and the more joy you might find in those challenging rides. And on the day after a hard speed ride, sometimes an easy recovery ride is just the thing to ease your tired legs.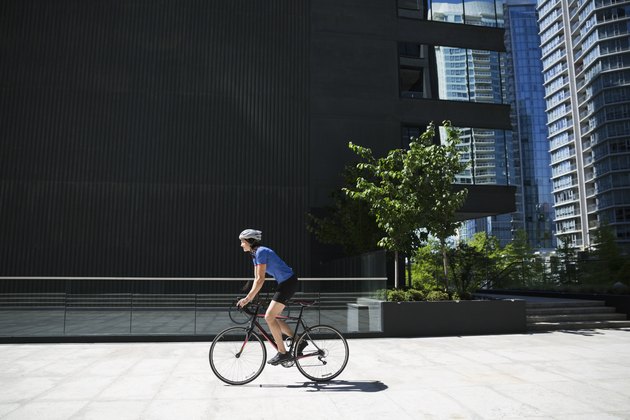 Why Your Legs Get Tired
The short, simple explanation for why your legs get tired: The muscles run out of ATP or adenosine triphosphate, the fuel that powers their contractions. Although the physiological mechanism by which this happens depends on whether you're doing short, intense workouts or longer submaximal workouts, the end result is the same.
Happily, the more you train, the more your muscles undergo adaptations that help them more efficiently produce and use energy. One of the key adaptations in well-trained muscles is a proliferation of mitochondria, the so-called "powerhouses of your cells" that produce energy. So the more you bike, the faster or farther you'll be able to go before experiencing cycling leg fatigue.
There's another factor that might leave your legs feeling tired when you bike. As the Hospital for Special Surgery points out, as your respiratory muscles fatigue, oxygen is redirected from your limbs to your diaphragm. Oxygen is an essential component of the reactions that fuel your cells for long-term activity, so when it goes away, so does your muscular endurance. As you train, your cardiovascular capacity will improve too, helping you feel more energized for longer.
Have a Training Plan
If you're new to cycling, increasing almost any aspect of your biking — whether it's the distance, speed, duration or frequency of your rides — will build your fitness and lead to you being able to pedal faster, farther without your legs getting tired.
But if you want to get in shape quickly or improve a specific aspect of your cycling ability (for example, your power for tackling hills), then you'll get better and faster results if you undertake a strategic training program that alternates work of the appropriate intensity and duration with appropriate rest periods.
Professional athletes will want a pro coach or trainer on your side too, helping monitor your performance and adjust your training, nutrition and recovery plans as needed. However, recreational and amateur cyclists can find a great place to start in the free sample plans offered in a collaboration by professional coach Oliver Roberts and Cycling Weekly.
Meet the Cycling Recovery Ride
Is It Cycling Leg Fatigue?
What Makes Biking Special?
Whether you're pedaling a stationary bike in front of the TV, spinning your wheels in a group cycling class or streaking down a roadway or mountain trail, biking is infamous for making your thighs burn. But it's also a whole lot of fun.
If you're new to cycling or thinking of getting started, consider these reasons why it's well worth braving the world of tired legs and burning thighs: Not only is it a low-impact form of aerobic exercise, biking also builds leg muscles and, as Harvard Health explains, can increase bone density in your lower body.
Once you have your bike (and bike helmet) in hand, this is a sport that costs very little. Take good care of your gear, and you won't pay for much more than occasional tune-ups on your bike.
You can also scale a biking workout to suit your fitness level by adjusting an indoor bike's resistance or, if you're outside, changing gears on the bike. And finally, cycling gives you all the benefits of frequent aerobic exercise, from improved mood to a stronger immune system, weight loss and reduced risk of many chronic diseases.