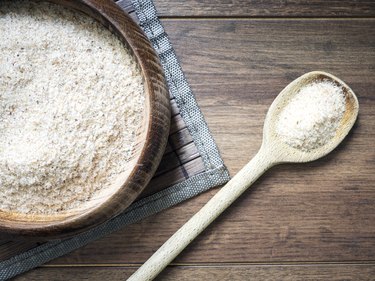 Uses of Psyllium
Psyllium is typically sold as powder that you can easily integrate into food products. This food product is high in fiber and well-known for its cholesterol-lowering abilities. It's a natural laxative used in the prevention of colon cancer and can also be used to treat bladder and skin problems. Psyllium can also be used in baking. Psyllium is gluten free and a good textural enhancer in dough products suitable for people with gluten intolerance. Given the wide range of uses of psyllium, it's hard to find a single alternative with the same properties. But, if using psyllium has been making you experience unpleasant side effects, don't worry — psyllium husk powder alternatives do exist.
Psyllium Husk Powder Alternatives
Deciding which psyllium husk replacements to turn to can be challenging if you're trying to get every single benefit in one product. But it helps that there are psyllium husk powder substitutes that can be used in different ways.
If you're looking for a gluten-free ingredient that can act as a thickening agent, but you want a psyllium husk powder alternative, take a look at using arrowroot, cornstarch, millet, potato starch, rice flour, sorghum flour and tapioca powder. With the exception of cornstarch, all of these possible alternatives work well with other flours and can be good when used in baking.
As a natural laxative, dried plums, otherwise known as prunes, are tastier and more effective than psyllium. Flaxseed is also a good psyllium husk powder alternative for this purpose. Not only does flaxseed have laxative properties, but it has anti-diarrheal properties too. This means that it's effective in regulating all types of bowel movements. Flaxseed can be consumed in many forms, but if you're having digestive system issues, you may want to take it as an oil.
If you need a psyllium husk replacement, but still want the soluble fiber, try certain grains, like bran, barley, legumes, lentils, peas, nuts and seeds. Many fruits and vegetables, like apples, eggplant, grapes, okra and strawberries are also rich in soluble fiber.
If you're keen on foods that are good for your heart health and will help lower your cholesterol as psyllium does, you'll find plenty of options available. Many of these foods are rich in soluble fiber, which lowers LDL (low-density lipoproteins). These foods include fish rich in omega-3 fatty acids, legumes, nuts, soy products and whole grains. Don't forget that there are many fruits and vegetables rich in soluble fiber, too.