Some but not all studies have reported that certain dairy products can trigger headaches or migraines. Some studies have also suggested that people who develop headaches after consuming certain dairy products may be more sensitive to tyramine and histamine, naturally occurring compounds that are found in high concentrations in some dairy foods. Though these substances may affect blood vessels in the brain in a way that produces a headache or migraine, the exact mechanism underlying their effects is not fully understood.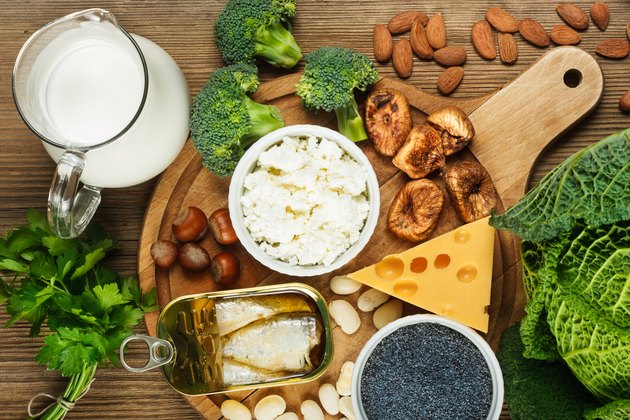 Are dairy products linked to migraines?
Studies that report a positive association between dairy products and headaches are often based on information obtained from interviews and self-reports. For instance, thirty percent of people with migraines report a food trigger, and cheese is among the most commonly reported food items (ref 1). In fact, processed dairy products, such as aged cheese, have been reported to trigger headaches much more often than milk (ref 2). Interviews of approximately 25,000 women found that women with migraines were more likely to avoid cheese, sour cream and milk compared with women who had either no headaches or non-migraine headaches (ref 3). In addition, avoiding certain dairy products has been shown to be beneficial. People who tested positive for certain food allergens found that removing the specific foods, including milk, milk products and cheese, decreased the frequency of their migraine headaches (ref 4).
Tyramine and headaches
Tyramine, also called a biogenic amine, is a product of the naturally occurring amino acid tyrosine. Amino acids are the building blocks of protein. Tyramine is found in high concentrations in several foods including aged cheese. Tyramine causes nerve cells in your brain to release chemicals that can constrict blood vessels, which may explain why certain dairy products can cause headaches. In addition, certain people may not be able to properly break down tyramine, so that they have higher levels circulating in their blood (ref 2). But whether this is the mechanism that triggers dairy-induced migraines is uncertain. A review published in the September 2003 issue of the journal "Annals of Allergy, Asthma and Immunology" found that only 5 out of 13 studies reported a positive relationship between tyramine ingestion by mouth and migraines (ref 5 ).
Histamine and headaches
Histamine is another biogenic amine derived from the amino acid histidine and is also found in high concentrations in aged cheese. Certain people have higher levels of histamine in their blood because of an inherited defect that prevents them from degrading it. They also may have a gastrointestinal disease or may be taking medications that interfere with the degradation process. In addition to headaches, people who are histamine intolerant can also experience diarrhea, itching, flushing, asthma and low blood pressure (ref 6). Histamine causes blood vessels to dilate, but it is unclear whether this is what causes headaches. Nevertheless, avoiding foods like aged cheese that are high in histamine can decrease symptoms in susceptible people.
Dairy products and gastrointestinal diseases
People with gastrointestinal disorders such as irritable bowel syndrome or IBS don't appear to have an increased incidence of food intolerance (ref 2- further reading). Nevertheless, foods that are rich in certain kinds of fibers and carbohydrates can trigger IBS symptoms. In a study of 197 people with IBS, dairy products, mainly cheese and milk and histamine releasing-foods were listed among the items that aggravated symptoms, though these did not include headaches (ref 7).
Food intolerance vs. food allergy
It is important to distinguish between food intolerance, also known as a non-immune adverse reaction to food (ARF), and food allergy. Non-immune ARF is an adverse reaction to a particular food that does not lead to an immediate immune response. A food allergy, however. stimulates the immune system immediately to produce specific antibodies called IgE antibodies against a particular food particle (ref 8,9) . A food allergy can be life-threatening causing anaphylaxis and death . A food allergy is usually diagnosed with special tests such as a skin prick test or blood tests that detect IgE antibodies to particular food items (ref 10). Most reactions to dairy products are non-immune, with lactose intolerance being the most common non-immune ARF in the United States.
Precautions
Please consult your physician or healthcare provider for guidance if you are experiencing headaches and other symptoms that you believe may related to particular foods. Consider seeking immediate medical attention if you develop an immediate reaction to a food item and experience symptoms that included shortness of breath, swelling of the tongue or throat and dizziness.