As the fourth most common mineral in your body, magnesium is involved in many important biological processes. Up to half of all the magnesium in your body is found in your bones, but magnesium is also involved in regulating blood pressure, blood sugar, muscle movement, nerve function, the immune system and energy metabolism. Health supplements containing magnesium are available without a prescription, but you should always consult your doctor before taking a health supplement such as magnesium because taking too much magnesium can cause severe side effects.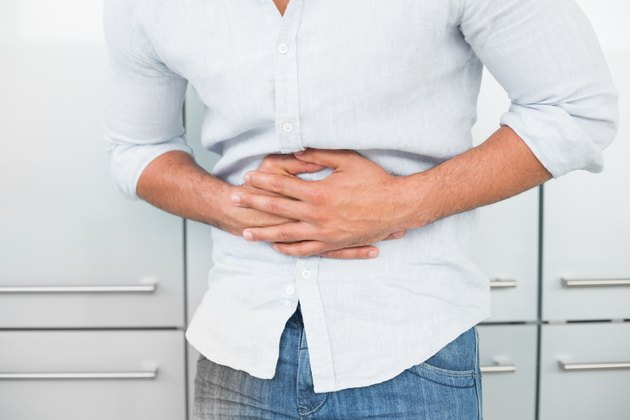 Gastrointestinal Effects
The earliest symptoms of magnesium toxicity are often gastrointestinal. Magnesium acts as a laxative, and diarrhea is frequently the first symptom of too much magnesium intake. Additional gastrointestinal symptoms might also occur, such as stomach upset, nausea, vomiting and abdominal cramping. Although toxicity is rare from dietary sources alone, the U.S. Institute of Medicine recommends a maximum of 350 mg of supplemental magnesium per day for adults. Doses less than this rarely cause symptoms of toxicity.
Cardiovascular Effects
Magnesium toxicity might adversely affect the cardiovascular system. Severe drops in blood pressure, also known as hypotension, have been reported after taking excessive doses of magnesium. Too much magnesium in the blood can also slow heartbeat or cause erratic heart rhythms, also known as arrhythmias. If very high levels of magnesium accumulate in the blood the heart might stop beating completely, called cardiac arrest.
Additional Symptoms
Severe magnesium toxicity can also cause muscle weakness and difficulty breathing. Changes in mental status might also occur, including confusion and lethargy. Elevated magnesium levels can throw off the balance of other minerals in the body, especially calcium, which can cause additional symptoms. In extreme cases, magnesium toxicity can result in coma or death.
Kidney Damage
The kidneys normally remove excess magnesium from the blood, and complications of severe magnesium toxicity can limit their ability to do so. If the kidneys are already damaged from pre-existing disease or alcoholism, they cannot remove magnesium from the blood as effectively as healthy kidneys. This reduced ability to filter magnesium out of the blood can increase the risk of developing magnesium toxicity. If you have kidney problems, you should only take magnesium supplements if you are directed to do so by your doctor.