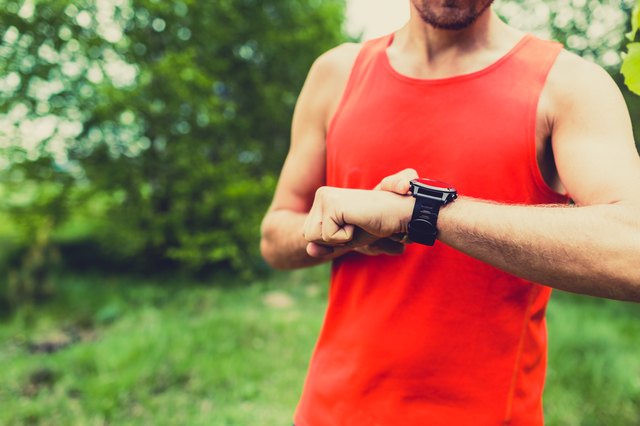 Your cardiac output is the amount of blood that your heart pumps each minute. The two principal factors that determine your cardiac output includes the number of times your heart beats each minute -- which is your pulse; and the actual volume of blood pumped out with each heartbeat -- which is your stroke volume. When you exercise, your cardiac output will increase as the intensity of your activity increases. This cardiac output increase reflects your body's response in meeting critical physiological needs.
Why It Happens
The American Council on Exercise reports that your pulse rate -- and in turn, your cardiac output -- increases during exercise because your heart is trying to meet your muscles' need for increased levels of fuel. This fuel comes in the form of blood and oxygen, and is required for your muscles to keep going. While technically, the formula for determining your cardiac output is "heart rate X stroke volume," for everyday practical purposes, monitoring your heart rate during exercise is generally more common. This is in part because changes to either the heart rate or stroke volume will have a domino effect in impacting all related components. However, as the American Heart Association points out, what is considered to be a "normal" heart rate during exercise greatly varies with individuals' age, health status and weight, and can also be influenced by additional factors.
The Importance of Monitoring
While there is no single, universal pulse or output rate that is considered normal for everyone, you can determine the heart rate range that offers you the maximum benefit during exercise. According to Purdue University, by determining your optimal heart rate, and then working toward and maintaining it, you have a tool and point of reference for improving your cardiovascular fitness. Ultimately, this equates to your heart becoming more efficient at managing your body's fuel needs at increasingly progressive levels of performance.
Output Formula
One of the most common ways of determining the optimal range for your heart rate is via the formula referred to as the Karvonen method. The American Council on Exercise advises that your first step is to estimate your maximal heart rate, which is the fastest heart rate that you can achieve safely during vigorous activity – such as exercise. Your maximal heart rate is determined by just subtracting your age from 220. A healthy person's optimal heart rate range is 50-80 percent of their maximal heart rate.
Additional Factors
Once you determine your optimal heart rate range, keep in mind that it is meant to only serve as a broad-based guideline as opposed to an absolute fitness marker. This is because as the American Heart Association points out, there are many factors that impact your heart rate, which affects your resulting numbers. Some of the additional factors include air temperature, altitude, medications, weight, nutrition and emotional stress. Also, the American Council on Exercise advises that only healthy individuals should use the optimal heart rate range as a point of reference.
Applying the Formula
According to ACE, if you're a beginner, reaching the lower spectrum of your optimal cardiac output range should be your initial fitness goal. As you progress in your fitness level, or if you are starting at a higher level of fitness, it would then be appropriate to adjust your fitness goal to reaching and maintaining the higher spectrum of your heart rate range.