Search the Internet or chat with buddies at the gym and you may be advised to try Propecia to speed your muscle-building efforts. Before you use this drug for purposes for which it's not intended, you should be aware of several things -- including the drug's potential side effects. Always consult a doctor before ingesting any sort of drug, especially if you have a health condition.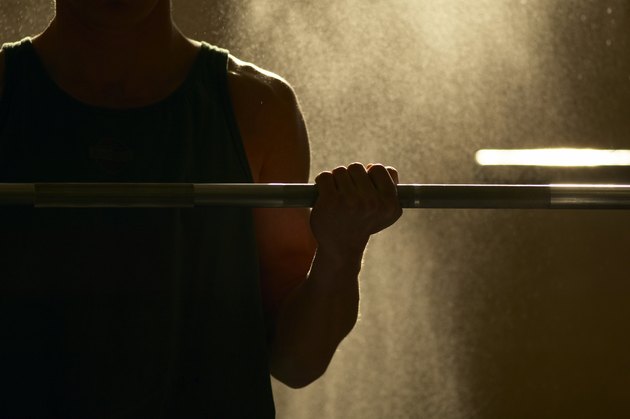 Identification
Propecia is the brand name for the drug finasteride. It's used to treat male-pattern baldness. Propecia works by preventing your body from converting the hormone testosterone into dihydrotestosterone, or DHT. DHT is a hormone that shrinks your hair follicles and is considered an important element in male-pattern hair loss. Testosterone has anabolic, or muscle-building, effects.
Testosterone Factor
Testosterone therapy improves physical performance, increases lean body mass and decreases your fat mass, says Emory University School of Medicine researcher Stephanie T. Page of Atlanta, Georgia, lead author for a 2005 study published in The Journal of Clinical Endocrinology and Metabolism. Your testosterone levels slowly decline with age -- about 1 percent each year after age 30, making it more challenging to build and maintain muscle as you age.
Effects
Propecia will slightly increase your circulating testosterone. That's why some people speculate it will enhance your body's muscle protein synthesis and lead to better gains in lean muscle mass. However, there is no scientific evidence to back the theory that Propecia has any noticeable effect on your athletic performance or body composition, according to "Sports Endocrinology," by Michelle P. Warren and Naama W. Constantini. Page studied the effects of testosterone therapy combined with finasteride and found no additional benefit when compared with testosterone therapy alone.
Considerations
Propecia may cause side effects that will interfere with your muscle-building efforts. These include headaches, dizziness or weakness and swelling in your hands or feet. Other side effects include skin rashes, a runny nose, testicle pain, abnormal ejaculation, sexual dysfunction and tenderness or swelling in your breasts. An allergic reaction also is possible. Consult a health care professional if you have prostate cancer, a bladder disorder, liver disease or abnormal liver enzyme test results. Propecia is not meant for use by women, according to Drugs.com. Pregnant woman should not even handle it because it can be absorbed through your skin and can cause birth defects.