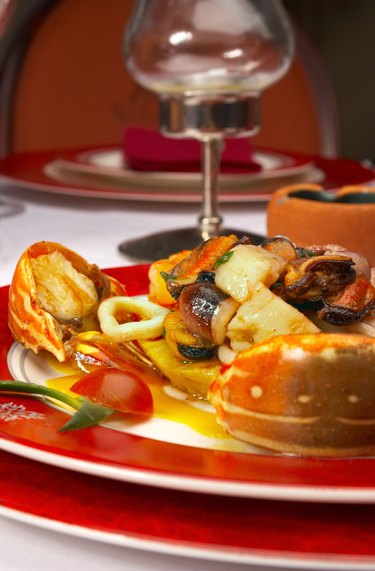 Houston's is a dine-in restaurant chain found throughout the United States. Knowing the nutrition information is a good way to determine which menu items fit your diet. The good news is, Houston's offers a variety of items on the menu with varying nutrition content. You'll likely find a meal that works for you, even if you have a limited number of calories in your calorie budget for dining out. Keep in mind that the menu and nutrition content may vary, based on location. If you're unsure, ask your server for nutrition information.
Not All Salads Are Created Equal
Some of the salads on Houston's menu contain upwards of 600 calories, according to "The Healthy Eater's Guide to Family and Chain Restaurants" by Hope Warshaw. If you plan to order a salad, the seared tuna and the ahi tuna salad are nutritionally balanced options. Both contain an estimated 245 calories, 25 grams of protein, 17 carbohydrates and 12 grams of fat. The lowest calorie salad is the kale salad with garlic dressing, which contains 109 calories, zero carbs, zero fat and 3 grams of protein.
Battle of the Burgers
If you plan to order a burger at Houston's, you might want to choose a less traditional route, such as ordering a veggie burger. Houston's traditional cheeseburgers contain nearly 900 calories, making the less traditional burgers a better option. The veggie burger and the tofu burger without cheese contain approximately 290 calories, 13 grams of protein, 45 carbs and 4 grams of fat, each. If you have room in your calorie budget and want to add cheese -- that will bring the total number of calories to 375.
Choose a Balanced Entree
Try the grilled swordfish or the braised red cabbage with goat cheese, if you're looking for a lower calorie entree. These choices contain between 200 to 250 calories and 12 grams of fat. The swordfish contains 40 grams of protein and zero carbs, while the braised cabbage contains 13 grams of protein and 17 carbs. The Hawaiian rib-eye dish is another good choice. It contains 320 calories, 20 grams of protein and 30 carbs. The breaded grouper is another standout for the health conscious diner, with 199 calories, 25 grams of protein, 4 grams of fat and 14 carbs.
Room for Dessert
Dessert is tricky when it comes to dining out, as desserts are often loaded with calories, sugar and fat. While the apple cobbler contains 950 calories, there are better choices. A slice of key lime pie has 250 calories, 30 grams of carbs, 2 grams of protein and 9 grams of fat. The chocolate chip cookies have a similar nutritional content profile. If you want to indulge in the brownie-and-ice cream sundae, share it with someone. Half a portion contains 270 calories, 10 grams of protein, 28 carbs and 12 grams of fat.