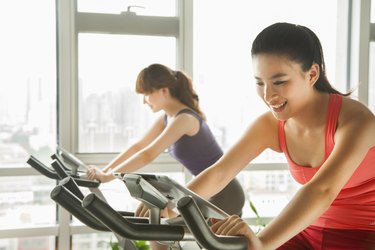 Fitness equipment is useful in promoting good health, and the federal government provides grants that can be used to purchase equipment. As a rule, government grant money is not given to individuals, but businesses and other organizations can obtain grant money if it is used to provide services involving fitness equipment, such as a building and maintaining playgrounds, recreational areas or community centers. Finding available grants can be done through several different resources.
Grants.gov
The primary source of information about available grants from the federal government is through its website Grants.gov. Twenty-six federal agencies award billions of dollars in grants each year. Grants.gov features a search engine that can locate available grants by agency or category, such as fitness equipment. The site also features specific grant information related to the American Recovery and Reinvestment Act or Recovery Act enacted in 2009. Information from the site shows that grant money from the act has been awarded to community centers for the purchase of fitness equipment such as treadmills and exercise bikes.
Specific Organization Grants
Some government grants for fitness equipment are made available to specific types of groups, such as local education agencies and community based organizations. For example, the Carol M. White Physical Education Program provides grants through the Department of Education for the purpose of assisting physical education programs in schools and communities throughout the country. The grants can be used to fund all facets of physical education programs, including purchasing physical fitness equipment.
Small Business Administration
The Small Business Administration is a good source of information about grants and other monies that may be available for businesses and organizations needing financial assistance. Although grant money to start or expand an existing business is not available from the SBA, information is available regarding grants offered through state and local programs for business expansion, such as purchasing fitness equipment. The SBA also has programs designed to provide financial assistance to help small business owners obtain funds through commercial lenders.
Private Organizations
Information about government grant programs for fitness equipment can be found through private organizations, in particular companies that manufacture, supply or install such equipment. For example, suppliers of playground equipment also provide information on government grants and other funding resources for schools to purchase the equipment. Trade associations, such the Sporting Goods Manufacturers Association, that are active in promoting legislation regarding grant money for physical fitness often provide information on available programs designed for the purchase of fitness equipment.