Calcium is a vital mineral, not only for bone health, but for proper muscle and nerve function. Hypercalcemia is a condition caused by too much calcium in your blood stream; it usually results not from dietary intake but from a physiological cause. You should only restrict calcium in your diet if your doctor prescribes it. Even people with calcium-based kidney stones are often prescribed a regular diet with normal calcium intake.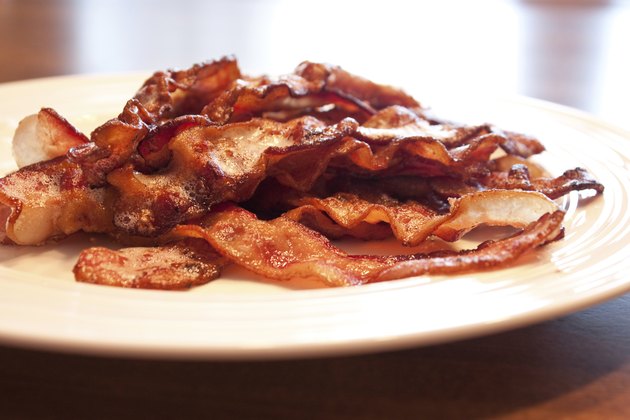 Pork Products
Lard contains no calcium; it is, however, very high in saturated fat. Pork rinds, Braunschweiger and bacon are also high in fat and contain no calcium. Some ham products contain no calcium, while other pork products may contain small amounts of calcium.
Fats
Cooking oils are generally all fat, and contain no calcium. Examples include sesame oil, olive oil, corn oil and canola oil. Vegetable shortening contains no calcium; it is, however a source of both saturated and trans fats. Most mayonnaise contains no calcium except trace amounts from eggs used in making it.
Sweeteners
White granulated table sugar contains no calcium. Products that are essentially sugar, such as hard candies, also contain no calcium. The artificial sweetener sucralose contains no calcium; it is often sold under the brand name Splenda.
Chicken
Chicken wings without any added breading or flavorings contain no calcium. Canned chicken liver pate has no calcium.
Gelatin Desserts
Reduced-calorie gelatin dessert mixes, sweetened with aspartame and made with water, contain no calcium.
Carrots
Carrots do not contain calcium.
Beverages
Low calorie or calorie-free carbonated beverages that are artificially sweetened generally contain no calcium; you should always consult product labels however. Water may or may not contain calcium depending on the source. Coffee and tea contain no calcium unless it was added in the water used during preparation; this includes most herbal teas.