Dietary supplements that promise to reverse gray hair may sound tempting, but the truth is scientists have found no way to reverse gray through nutrition. While there isn't much you can do nutritionally to reverse gray hair, you may be able to reverse grays by applying certain substances topically. One dietary supplement also shows promise at preventing gray. Avoiding nutrient deficiencies and certain lifestyle factors may reduce the risk of gray as well.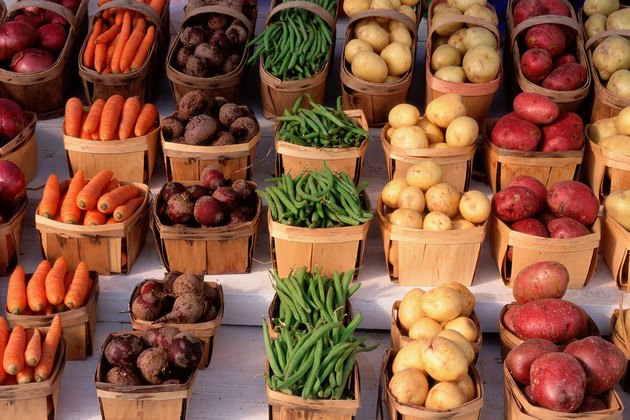 Breakthrough for Reversing Gray Hair
A study published in 2013 in The FASEB Journal suggests scientists may have at last found a way to reverse gray hair. Researchers discovered hydrogen peroxide accumulation leads to oxidative stress that reduces the enzyme catalase, causing hair and skin to lose its natural pigment. Catalase is an enzyme found in fruits, vegetables and virtually all living organisms. It breaks down hydrogen peroxide and protects cells by preventing damage from oxidative stress. Researchers developed a modified topical form of catalase and successfully reversed eyelash and skin color in patients with vitiligo. They express confidence that pseudocatalase may serve as a way to reverse gray hair.
Kudzu Root May Prevent New Gray
The Annals of Dermatology journal published a small study in May 2013 that reported supplementing kudzu root extract may prevent the development of new gray hair. Compared to placebo, taking kudzu twice daily prevented hair from turning gray without negative side effects, report the authors. They assert kudzu can be considered a feasible treatment for preventing gray hair. Kudzu is a plant that belongs to the pea family, known botanically as P. lobata. It's widely available online and at health food stores.
Deficiencies That May Cause Gray
Researchers conducted an observational study of children with premature gray to try to shed light on nutritional deficiencies that might be responsible for premature gray in today's society. They found a link between deficiencies in calcium, iron and vitamin D-3 and going gray prematurely. Because hair pigments rely on these nutrients, deficiency may cause abnormalities, according to the authors. However, more research is needed. The study was published in the January 2013 issue of the International Journal of Trichology.
Smoking May Cause Gray
If you first noticed gray hair before age 30, smoking may be to blame, suggests scientists. They conducted an observational study involving 207 participants and found a significant link between premature gray hair and cigarette smoking. Incidentally, smoking is known to cause oxidative stress. The authors write that cigarette smoking may accelerate the aging process, which may explain the link between premature gray and smoking cigarettes. The study was published in the April 2013 issue of the Indian Dermatology Online Journal.