The knee is a large joint that supports the weight of your body whenever you are standing, walking or performing almost any other kind of movement. Swelling in the knee can make getting around more difficult and may be painful. Knee swelling after exercise is not uncommon, but may be a wake-up call to change your routine or to put less pressure on your joints.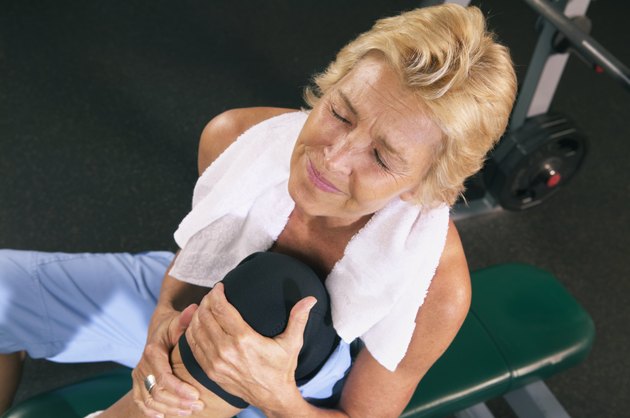 Causes
Swelling of the knee after exercise is most often caused by minor sprains or other inflammatory conditions, such as tendinitis, bursitis or arthritis. The tendons and ligaments that hold your joints together can become irritated from overuse, tears or other injuries. Arthritis is a degenerative condition that causes joint pain and localized inflammation and tenderness. If simple self-care measures do not relieve the swelling or if you consistently experience symptoms after a workout, consult your doctor to determine the root of the problem.
Treatment
Icing and elevating your knee after exercise will help the swelling recede and reduce the pain and tenderness. Anti-inflammatory medications are safe for most people to use to combat inflammation as well. If you cannot take ibuprofen or acetaminophen, ask your doctor for alternative treatment ideas. Depending on the underlying cause of the swelling, you may be required to rest for a few days until the pain and swelling taper off.
Stretching
Stretching before a workout loosens your muscles and tendons, thus reducing the risk of injury during exercise that can lead to swelling of the knee. Active swelling must be managed before beginning a stretching routine to avoid causing more pain and complications. Simple knee bends help you maintain flexibility after an injury; a swollen knee can feel stiff after several days of limited mobility.
Hamstring and calf stretches strengthen the ligaments and tendons that support the knee and can help prevent injury. Toe walking is one way to stretch your calves; stand up on your toes, heels off the ground and walk around for several minutes. Lie on the floor on your back near the corner of a wall to stretch your hamstrings. Keeping your knee slightly bent, place your leg up in the air. Rest your heel on the wall and keep the sole of your foot pointing upward. Move closer to the wall to get a deeper stretch in the hamstring.
Support
Wrapping your knee with a compression bandage or wearing an elasticized knee brace can control the amount of swelling you experience during and after exercise. Choose athletic shoes with ample support to reduce the amount of pressure on your knee during running and other sports that are hard on the joints. Less stress on your knees reduces the risk of developing overuse injuries that lead to inflammation and swelling.