Spot-reducing fat from your thighs isn't possible. The only way to slim down flabby upper legs is by losing fat from your entire body. Diet and exercise can help create the caloric deficit that's needed to achieve this. When your overall body fat reduces, your thighs will also budge. This doesn't mean that you have to settle for a flat, shapeless rear end. Sure, you might lose excess fat from your tush, but by doing targeted exercises, you can work your glutes, and maintain a shapely, toned rear end.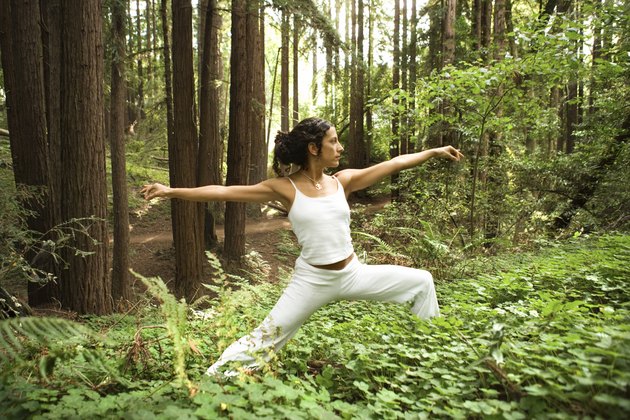 Step 1
Aim for gradual weight loss at a weekly rate of one to two pounds. According to the U.S. Department of Health and Human Services, this weight-loss rate allows you to slowly get used to the diet and exercise changes you're making, and it's also easier to keep the weight off in the long run. Since one pound of fat has 3,500 calories, you must accumulate a deficit of 500 to 1,000 calories every day to achieve this expert-recommended weight-loss rate.
Step 2
Eat smaller portions, and eliminate or replace unhealthy, high-calorie, high-fat foods from your diet to cut calories. Compare and match your portions to the often smaller serving sizes mentioned on food labels. Skip desserts and fattening snacks, such as ice cream and chips, or replace them with foods that have fewer calories, such as frozen yogurt and air-popped popcorn. Also, limit soda and alcohol, or drink water instead.
Step 3
Perform 30 to 60 minutes of aerobic exercise on five days of the week, as favored by the Centers for Disease Control and Prevention. Aerobic exercise, or cardio, burns calories that add to your caloric deficit. In half an hour, a person who weighs 155 pounds can burn 242 calories by race walking; 260 calories by riding a bike; 335 calories by pedaling on an elliptical machine; and 372 calories by jumping rope.
Step 4
Engage in strength training on two to three nonconsecutive days of the week. Strength training stimulates muscle tissue throughout your entire body. Muscle tissue is denser than fat, and speeds up your resting metabolic rate, so you burn calories even when you're watching TV or sleeping. When excess body fat reduces, you'll have a slimmer, but toned physique. In addition to your legs and butt, also work your chest, back, abdomen, arms, and shoulders. Include exercises, such as bench presses, crunches, pushups, bent-over rows, and lat pull-downs.
Step 5
Include targeted leg and butt exercises in your strength-training routine. Perform exercises that engage multiple joints and multiple muscles to maximize muscle stimulation. Do exercises, such as deadlifts, front and back squats, and wall squats. Also include step-ups, lunges, and hip extensions on all fours, which according to research by the American Council on Exercise, are some of the most effective exercises for your glutes.
Tip
During strength training, work your way up to finishing two to three sets of eight to 12 repetitions. Always use enough resistance so that you can't do another repetition with perfect form after finishing a set. Slowly increase the resistance as your muscles get stronger; always challenge yourself.
Warning
Get your doctor's consent before starting a diet or exercise regimen, especially if you have an injury or health condition, or have been inactive.