Gastritis is the medical term for stomach inflammation. It can cause you to experience bothersome gastrointestinal symptoms such as loss of appetite, heartburn, nausea, indigestion and abdominal pain to name a few. Previously doctors recommended a bland diet for gastritis sufferers, but research indicates this type of diet is no longer necessary, according to the University of Maryland Medical Center. However, making certain diet and lifestyle changes may help reduce the symptoms of gastritis.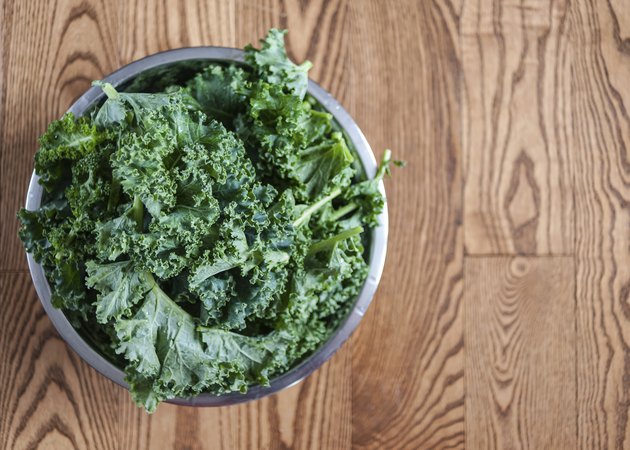 Gastritis 101
A number of situations cause stomach inflammation, including microbial infection, coffee and acidic beverages, alcohol consumption, cigarette smoking, immune system disorders and taking certain medications such ibuprofen long-term. Being infected with the H. pylori bacteria, smoking cigarettes, being alcoholic, having an inflammatory bowel disease or having AIDS increases your risk for gastritis. The risk of gastritis increases with age also. Ask your doctor whether he recommends you follow a specific diet.
Foods Rich in Certain Nutrients
Although diet won't cure gastritis, the UMMC offers nutritional tips that may help reduce your symptoms. The center recommends that you aim to eat a nutrient-dense, high-fiber diet rich in B vitamins, calcium, flavonoids and antioxidants. Examples of suggested foods include dark leafy greens, whole grains, sea vegetables, beans, peas, fish, poultry, eggs and lean meat. If you have H. pylori, foods rich in flavonoids may inhibit its growth, according to the UMMC. Foods rich in flavonoids include citrus fruits, soybeans and other legumes, kale, broccoli, yellow onions, apples, berries and scallions.
High-Protein Diet
Researchers found that a high-protein diet suppressed chronic gastritis in gerbils infected with the H. pylori bacteria, according to an animal study published in the November 2010 edition of the journal "Nutrition and Cancer." The study diet consisted of about 32 percent protein. Although human studies are necessary, this is promising data. Talk to your doctor if you'd like to incorporate more protein in your diet. Nutritious protein sources include low-fat dairy, beans and other legumes, soy foods, lean meats, fish and eggs.
Other Dietary Tips
What you avoid might be as important as what you eat. UMMC recommends that you avoid refined foods such as breads, pasta and table sugar. Opt for whole grains such as whole wheat, quinoa, whole oats and brown rice. Avoid beverages that increase acid production or irritate the lining of your stomach, such as coffee, carbonated beverages and alcohol. Minimize or avoid foods high in fat. Animal data suggests high-fat foods increase stomach inflammation, according to the UMMC.