The fat-burning process is ongoing throughout the entire day, even when sleeping. However, there are points during exercise when you will burn more fat than other energy sources like carbs and protein. The general rule of thumb is that more carbs are burned when you need a quick energy source, but the longer you exercise, your body switches to fat as its primary fuel.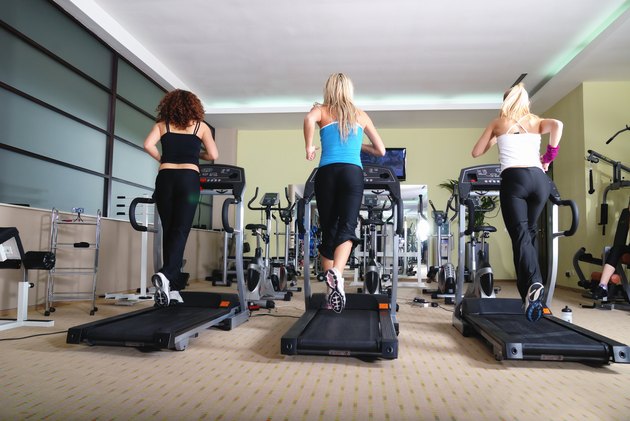 Fat Burning 101
It's important to understand that you are always burning fat and carbs, even while you're at rest, but how long or how intensely you're exercising will determine how much you burn of each. While the physiology of fat burning is complex and is still being studied, the general rule is that carbs supply you for quick energy boosts and fat supplies you for longer, moderate-intensity workouts. So if you think about jumping out of your chair and jogging in place all of a sudden, at first your body would use more carbs since they are a quick energy source. After that, since carbs are a limited energy source, if you keep jogging your body switches to using more fat stores as fuel. At what point that switch occurs depends on your fitness level, as elite athletes and very fit people tap into fat stores sooner, but on average you can expect to make the switch at around 15 to 20 minutes of moderate-intensity aerobic exercise, according to Dr. Michael G. Kurilla of the National Institute of Allergy and Infectious Diseases.
Target Heart Rate
In order to burn fat most efficiently, you need to get your heart pumping at your target heart rate, which is 50 to 80 percent of your maximum heart rate, or MHR, per the American Heart Association. To calculate this number, subtract your age from 220. So if you're 40 years old, your MHR is 180 and your target zone is 90 to 144 beats per minute. Working in your target heart rate zone for 40 minutes has been found to turbo charge your metabolism for up to 19 hours afterward, according to CNN Health.
High- Versus Low-Intensity Intervals
Once you've learned your target heart rate you can use it as a guide for performing interval training workouts, where you alternate high-intensity exercise with low-intensity exercise. Stefan Aschan, a New York fitness trainer, suggests working out in the high end of your target zone for 15 minutes, then back down to the lowest end of your target zone for 15 minutes, whether it's on the treadmill, elliptical, road running or whatever cardio you choose. As an added bonus, this type of switching from high to low can help keep boredom at bay. In a 2003 study led by Jie Kang at the College of New Jersey about workout efficiency it was found that men who ran harder and faster at the beginning of their runs burned about 5 to 10 percent more fat overall.
Calories and Basal Metabolic Rate
Everyone has something called a basal metabolic rate – or BMR – which is the number of calories you burn while at rest to stay alive. Your BMR represents about 60 to 75 percent of the calories you will burn in a day. It's important to find your BMR – you can do so using an online calculator -- because then you can properly determine how many calories you burn in a day, and how many you need to eliminate from your daily intake to burn more calories during workouts and thus lose weight. For example, if you are a light exerciser working out about one to three times per week, your caloric intake should be your BMR times 1.2; if you're very active and exercise almost every day, then your calorie intake should be your BMR times 1.725, according to the American Council on Exercise. If you want to lose a pound of fat a week, remember that equates to a deficit of 3,500 calories per week.