The muscles of the buttocks are known as the gluteals. The gluteals are composed of three muscle areas: the gluteus maximus, gluteus minimus and post glute medius. The gluteus maximus, the largest muscle in your body, functions to extend the hip. The gluteus minimus and medius both act to abduct the hip. Strength and aerobic training blended with diet modification will shred fat from your buttocks.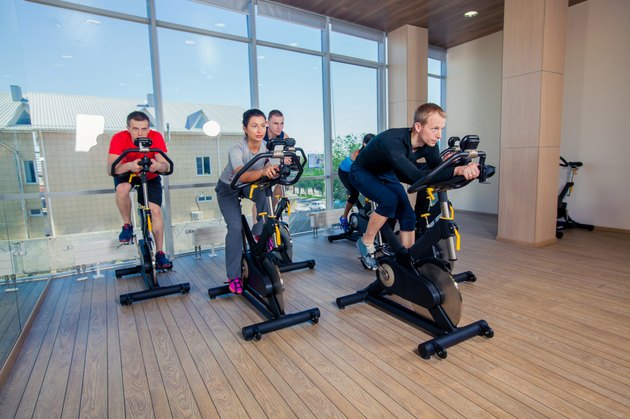 Strength Training
Strength training increases lean muscle tissue, and muscle development heightens your metabolism. Full-capacity strengthening dissipates fat tissue in the buttocks. Every major muscle should be strengthened three times per week. A full-body routine is necessary because spot reduction is a myth. Fat needs to be reduced from your whole body, not just one area.
A resistance circuit gets you to move quickly between sets and exercises. This creates a greater heart rate response and allows you to burn more energy. Leg extension, supine ball curls, step lunges and seated shoulder presses are all peak energy burners.
Aerobic Training
Your aerobic program should be on the three opposite days to your strengthening to lose weight in the buttocks areas. The duration of your three aerobic sessions is 40 minutes. You perform intervals of one minute at 85- to 90-percent max heart rate, then two minutes at 65 to 70 percent. This shocks your metabolic system, forcing more fat to burn off.
The stair stepper and elliptical trainer are ideal for glute conditioning. The joint action of both pieces powerfully targets the gluteals. You can spend 20 minutes on both the stair stepper and elliptical trainer.
Diet Modification
Do not overlook the role of nutrition in shaping your buttocks. Exercise becomes a non-factor without diet modification. Eliminating 500 calories per day will allow a pound of weight loss per week. Slow, but steady, weight loss is much more likely to be sustained. Losing excessive weight mostly strips muscle from your body. An easy way to negate 500 calories in a day is converting your main beverage to water.
Considerations
Maintain a whole-body training approach. It is tempting to focus all your energy on your glutes, but remember, isolated fat reduction is impossible. You want to complete six days of total exercise. Your three strength-training days can be Monday, Wednesday and Friday. Tuesday, Thursday and Saturday can be your aerobic training days. Every aerobic workout should begin with a warm-up and end with a cool-down. Both are five minutes at a light intensity of 60-percent max heart rate.