Your shoulder joint is one of most mobile joints in your body and even though this has many advantages, it also makes it an easy joint to dislocate. Excessive pulling or stretching applied to your shoulder may cause connective tissue to tear, resulting in your upper arm bone moving out of its socket -- known as a dislocated shoulder. If this happens, a medical professional can put the ball of the joint back into the socket and then you can begin rehab exercises to improve your flexibility, mobility, stability and strength.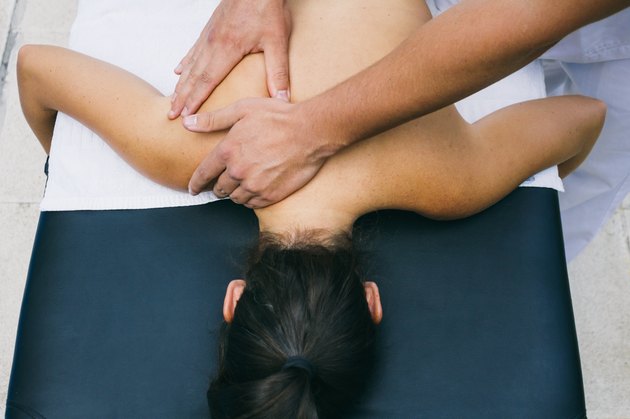 Pendulum
Following relocation of your dislocated shoulder, SportsInjuryClinic.net recommends a one-week immobilization period in which your arm is supported by a sling to avoid further injury. After this period, you can gradually introduce mobility exercises such as the gently effective pendulum exercise. Keeping your spine straight, lean your body forward at the waist with your good arm resting on a table for balance. Loosely hang your affected arm down toward the floor. Swing your arm forward and backward as far as possible. Repeat 10 times, but stop if you feel any pain.
Pendular Circle
The pendular circle gets your arm moving, increases mobility and improves range of motion. Like the pendulum, begin the pendular circle by leaning your torso over at the waist. Rest your good arm on a table. Keeping your back straight and your shoulders loose, hang your affected arm down toward the floor. Gently swing your arm in a circular motion, gradually increasing the size of the circle. Reverse the direction, but stop if pain increases.
Broomstick
Once the healing process begins and you have satisfactory range of motion, you can start assisted exercises using your good arm to assist your affected arm through the movements. To perform the broomstick exercise, hold onto a broom handle with hands shoulder-width apart. Mimicking a pendulum, use your good arm to push the broomstick out toward the side of your injured arm, then reverse. Complete as many pain-free repetitions as possible.
Stretches
Regaining full range of motion of your shoulder requires using your muscles against gravity with active unassisted stretching exercises. The American College of Sports Medicine recommends several simple exercises. To perform shoulder rolls, place your hands on your hips and rotate your shoulders in circular movements, both forward and backward. Arm circles involve raising your arms airplane-style to shoulder level and slowly circling both arms from the shoulders. You can also try lifting your affected arm in front of you and above your head.
Strengthening Shoulder Joints
To prevent shoulder dislocation re-occurrences, you need to strengthen your shoulder joints and rotator cuff muscles. Exercises that strengthen the rotator cuff and joint include internal and external rotation exercises with a theraband, lateral raises with dumbbells and standing forward flexion exercises, according to Massachusetts General Hospital's Sports Physical Therapy group.