If you like to put hot spices or hot sauce on your food, you may be doing yourself a favor. The benefits of hot peppers are backed up by science.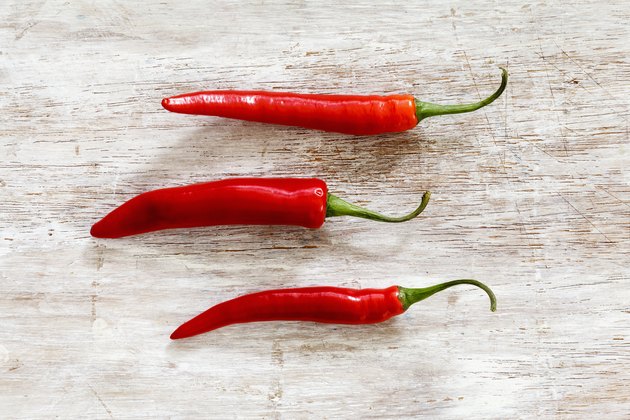 Capsaicin, the alkaloid responsible for the spicy flavor in hot peppers, may aid in the treatment of diabetes, cardiovascular problems and gastric disorders, according to a June 2016 review published in the journal Molecules.
Peppers that contain capsaicin include jalapeños, habaneros, cayenne, serrano, cherry peppers and even bell peppers. Consume them regularly to reap the benefits.
Tips
Improved circulation, weight loss and lower cholesterol levels are just a few of the many benefits of hot peppers. These delicious foods will not only spice up your meals but also boost your overall health.
Capsaicin Increases Blood Flow
When you eat hot peppers, the capsaicin in these foods may improve blood flow and heart function. A 2012 article published by the American Chemical Society suggests that this compound may protect against heart disease, a leading cause of death in the U.S. and other countries.
As the researchers note, capsaicin benefits cardiovascular health in several ways. It may improve circulation, reduce high blood pressure, lower cholesterol levels and prevent blood clots. After ingestion, this substance may help decrease cholesterol buildup and increase its breakdown. At the same time, it helps your body eliminate it more effectively.
Furthermore, this natural compound has been shown to inhibit a gene that causes the muscles around your blood vessels to constrict. This leads to improved blood flow and better cardiovascular health.
Beware, though, that hot peppers cannot replace prescription drugs for heart disease. Enjoy them as part of a balanced diet to keep your heart in shape.
Hot Peppers May Improve Digestion
In traditional medicine, hot spices have been used as digestive stimulants as well as for treating gastrointestinal disorders. According to the review featured in Molecules, capsaicin may reduce gastric mucosal damage and protect against stomach ulcers.
Another research paper, which appeared in Critical Reviews in Food Science and Nutrition, states that this compound may be an effective digestive stimulant and improve nutrient absorption in the gut. Additionally, it may help with weight loss due to its thermogenic properties. Capsaicin also exhibits anti-inflammatory and analgesic effects, so it may aid in the treatment of painful diseases, such as arthritis.
The review authors note that applying capsaicin topically may relieve the pain associated with nerve damage in diabetics as well as post-operative pain. Furthermore, it suppresses acid production and may help in gastric ulcer prevention and treatment.
Moderation is the key. Spicy foods, including hot peppers, may irritate your stomach and produce a burning sensation, especially when consumed in large amounts. Some individuals are more sensitive than others and may experience digestive discomfort and acid reflux after eating these foods.
Spicy Peppers and Cancer
The Molecules review suggests that capsaicin may play a role in cancer prevention. This naturally occurring compound displays chemopreventive, chemotherapeutic and antitumorigenic effects. However, some studies indicate the opposite, so more research is needed to confirm its safety and effectiveness.
According to the above research paper, capsaicin may inhibit cancer cell growth and stop the division of cancer cells in the body. Most studies have been conducted on animals, so their findings may not apply to human subjects. Additionally, the current evidence is conflicting. Several animal studies cited in the review have found that spicy peppers may promote the development of gastric cancer.
Current research supports the health benefits of hot peppers — when consumed as part of a balanced diet. Spicy peppers alone are unlikely to prevent or cure diseases. Your overall diet and lifestyle habits matter most. Stay active, eat mindfully and cut out added sugar, processed foods and trans fats to maintain your health and well-being.
Is This an Emergency?
If you are experiencing serious medical symptoms, seek emergency treatment immediately.