Traditional pesto sauce, with its combination of olive oil, pine nuts, fresh basil, garlic and Parmesan cheese, is a healthy addition to any diet. While it is rather high in calories and fat, pesto offers a wealth of nutrients and a punch of flavor that many other sauces lack. When enjoyed in moderation, pesto can enhance your health and nutrient intake.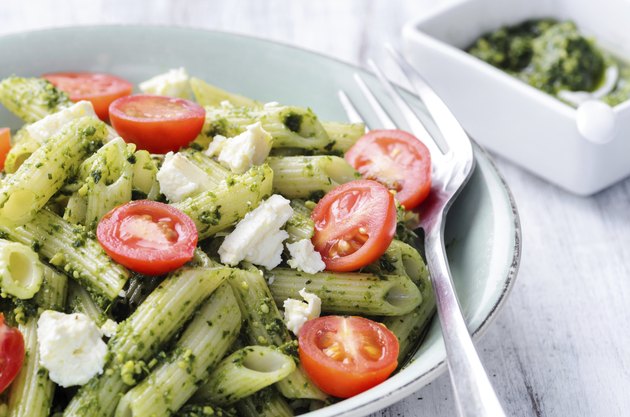 Nutrients
A 1/4-cup serving of commercially prepared pesto contains 15 percent of the daily value for vitamin A, 6 percent for vitamin C, 20 percent for calcium and 4 percent for iron, based on a 2,000-calorie diet. Vitamin A supports vision health, vitamin C acts as an antioxidant and tissue builder, iron supports healthy red blood cells and calcium is essential to strong bones. You also get about 6 g of protein per serving of pesto. A basil-based pesto also contains a number of flavonoids, compounds that support cell structure and help fight disease-causing free radicals.
Calories and Fat
Because of the pine nuts, olive oil and Parmesan, pesto is quite calorie dense. A 1/4-cup serving provides about 270 calories and 23 g of fat. The fat in pesto is mostly unsaturated, which supports heart health. In fact, if you use unsaturated fats instead of saturated fats, you may actually experience an improvement in your cholesterol levels. Replace butter and cream sauces, such as Alfredo or carbonera, with pesto to help support this switch.
Considerations
Some commercial varieties of pesto contain up to 500 mg of sodium per 1/4-cup serving. Making pesto at home is simple and allows you to control the ingredients. In a blender or food processor, blend together 3 cups fresh basil leaves, 1 1/2 cups pine nuts, 4 peeled cloves of garlic, 1/4 cup grated Parmesan cheese and 1 cup olive oil. Experiment with different ingredients as well; you could substitute walnuts, rich in omega-3 fatty acids, for the pine nuts, cilantro or mint for the basil, and Romano cheese for the Parmesan. If you are unable to eat dairy, leave the cheese out altogether.
Uses
Because the sauce is so flavorful, you may only need a tablespoon or less to add flavor to your meals. Stir 1 tbsp. of pesto into 1 cup of nonfat Greek yogurt to make a tangy dip for cut-up vegetables. Stir a teaspoon of pesto into your bowl of tomato soup to add color and richness. Top grilled chicken or fish with a dab of pesto to add pizzazz. Dip crusty, whole grain bread into pesto instead of slathering it with butter.