Tuberculosis, or TB, is a bacterial infection that affects the lungs. TB can also spread to other parts of the body, such as the brain, spine, bladder and joints. Only about 10 percent of those who have the TB bacteria, or germ, actually develop an active case of TB, according to FamilyDoctor.org. Treatment for TB takes a long time, and patients who are contagious must avoid activities where they can spread the disease. People who are experiencing TB symptoms may have difficulty performing exercise, and being inactive during the lengthy treatment can make you less physically fit; however, physical activity can speed recovery and help you manage your weight.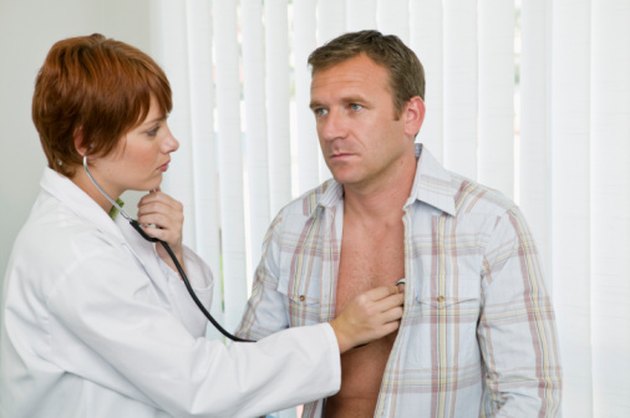 Tuberculosis
A TB infection, which is also called inactive or latent TB, means that although the germ is present you are not contagious or sick. Active TB occurs when the germ is present, you are experiencing symptoms and you can spread the disease to other people. TB symptoms include a cough that lasts for three or more weeks, coughing up blood, fever, chest pain, loss of appetite, unintentional weight loss, chills and night sweats. You might experience additional symptoms, such as arthritis-like joint pain or brain damage, if TB affects other parts of your body. Many TB patients experience depression because of the embarrassment and isolation (Ref 2).
Treatment
Treatment for inactive TB usually involves taking medication for six to nine months to kill the TB bacteria. Treatment for active TB requires several medications taken over a six-month period or until tests show there is no active TB in the body. TB is easily spread during the first two weeks of treatment, so doctors instruct patients to take special precautions, such as avoiding contact with other people for at least two weeks after beginning antibiotic treatment, sleeping alone, opening a window in the room where you spend your time, covering your mouth when you cough or sneeze.
Work
If you have inactive TB, which cannot be spread to others, you can go to work and continue your normal routines while undergoing treatment to kill the TB germs. If you have active TB, you are contagious for at least two weeks after you begin treatment with medication, according to the New York Bureau of Tuberculosis Control. Tests performed by your doctor determine when you are no longer contagious. After your doctor's approval, you can return to work and normal activities as long as you take the full course of TB treatment without skipping doses or tests.
Exercise
According to Cigna Healthcare, exercise can help your body fight the TB infection, speed your recovery and improve your mood. If you have inactive TB, you can continue your normal exercise activities. You need your doctor's approval to perform exercise and go outside if you have active TB. Moderate walking is a good way start, especially if you have been inactive.
You can exercise in short sessions, such as walking for 20 minutes or completing two 10-minute walks. You should walk as often as you are able. As you build your strength, you can increase your walking time slowly. Once active TB is no longer contagious, if you feel well enough and your doctor approves, you should be able to return to your normal exercise routines.
Warning
Talk to your doctor before returning to work or beginning exercise. Whether or not you should exercise depends on your condition and how active TB affects your body. Stop exercising and contact your doctor if you have pain or unusual fatigue during or after exercise.