Don't be fooled by the hype that says you have to lift heavy loads to get strong and fit. While heavier lifts at lower repetitions have their benefits, you can increase strength and build muscle lifting lighter weights for more repetitions.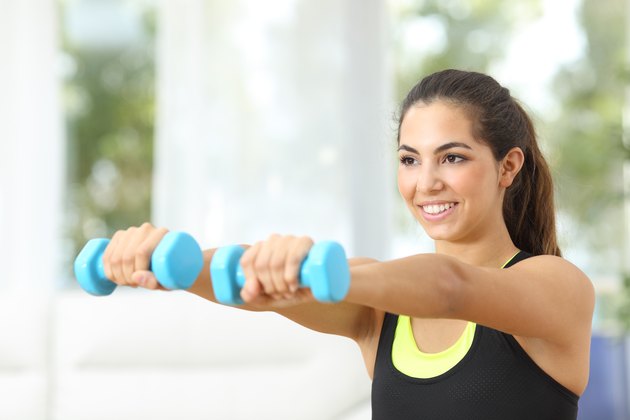 A set of light weights is inexpensive and a good investment. It's certainly less than the price of a gym membership and it enables you to get a great workout without leaving home.
1. One-Two Punches
This kickboxing-inspired move tones your arms, shoulders, chest and core muscles and builds explosive strength for the next time you have to knock someone out. Or not.
HOW TO DO IT: Stand with your feet hip-distance apart. Hold a pair of weights in close to your body at chest height, palms facing in. Contract your core muscles. Extend your right arm out across your body, rotating your torso the the left and pivoting on your right toes. Come back through center retracting your right arm and and repeat on the other side. Retract the arm and punch the other arm out. Continue to alternate for 12 to 20 reps.
2. Overhead Squats
Holding weight above your head makes any exercise more challenging. This exercise will strengthen your lower body, core muscles and shoulders stabilizers.
HOW TO DO IT: Stand with your feet shoulder-width apart. With a dumbbell in each hand, extend your arms straight above your head, palms facing forward. Contract your core muscles and squat down, sending your hips back and keeping your knees behind your toes. Keep your biceps in line with your ears, chest open, torso erect. Come down until your thighs are parallel with the floor, then rise back up. Repeat for 12 to 20 reps.
3. Triceps Extensions
The triceps are small muscles on the backs of your upper arms. You don't need much weight to feel the burn with this exercise, which will also tone your upper and mid back, core and shoulders.
HOW TO DO IT: Stand with feet hip-distance, holding a dumbbell in each hand. Bend your knees slightly and hinge at the hips so your torso is at a 45-degree angle. Open your arms out in line with your shoulders and bend your elbows to 90 degrees, then lower your forearms so your palms are facing behind you. Extend your arms out straight, then bend them in again. Repeat for 12 to 20 reps.
4. Supermans
Channel your inner superhero and strengthen your back, arms, shoulders, butt and the backs of your legs at the same time. You won't need much weight for this to be challenging!
HOW TO DO IT: Lie on your stomach with your arms extended out in front of you with a dumbbell in each hand. Straighten your legs, contract your core muscles and lift your arms, chest, and legs off the ground. Pause for a moment, then release back down. Repeat for a total of 10 reps.
5. Hip Lift and Extend
This might be challenging to figure out at first, but it's a great total-body exercise that especially works the arms, abs and glutes.
HOW TO DO IT: Sit on your rear with your legs bent, feet on the floor. Place your left hand on the floor behind you, and hold a dumbbell in your right hand. Press through your feet and your left hand to lift your hips off the ground, extending your right arm out above you at the same time. Lift your hips up inline with your chest, then lower down to the starting position. Repeat for 12 to 15 reps then switch sides.
6. Renegade Rows
If these sound tough, that's because they are! A push-up, row and plank combined, this move builds strength in your arms, chest, back and abs. If you need to modify, drop your knees to the floor.
HOW TO DO IT: Hold a weight in each hand. Get into push-up position with the weights on the floor. Contract your core muscles and lower down into a push-up. Press back up to straight arms, lift the right hand up bending the elbow behind you into a row, and pull the weight up next to your chest. Squeeze your shoulder blades together. Lower your right hand back down, lift the left hand up into a row. Put both hands down and go into another push-up. Repeat the sequence 10 to 15 times.