You know how it goes: you want to lose some weight, so you start a new healthy eating plan with the best of intentions, but shortly after starting, you seem to feel hungry all the time. You say to yourself, "Ugh, I want to lose weight, but I can't stop eating!" So, what gives? Are you doomed to your current status forever, even though you're desperate to lose weight?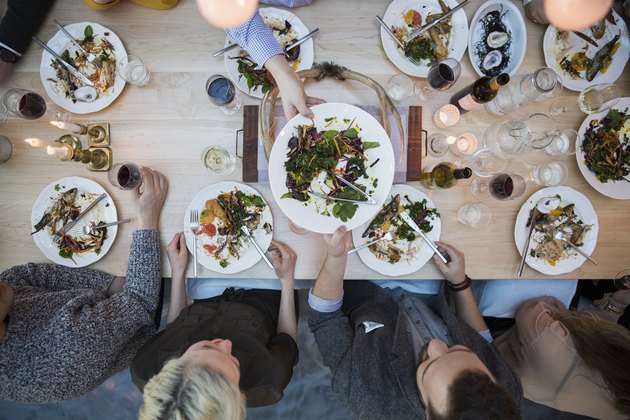 The answer is no. In most cases, if you can't stop eating when you're trying to lose weight, it's because your hunger is emotional or psychological instead of physical. Fortunately, there are a lot of things you can do to get yourself back in tune with your body, so you can stop eating when you're full and shed those pounds.
Physical Versus Emotional Hunger
If you can't stop eating, it's a good indication that you're acting from a place of emotion, rather than true, physical hunger, which occurs on a physiological level.
Physical hunger is characterized by an empty feeling in the stomach and maybe some accompanying growling or rumbling to signal that the stomach's empty. According to the National Center on Health, Physical Activity and Disability, or NCHPAD, physical hunger usually comes on gradually. When you're physically hungry, you're usually more open to a wider variety of foods — anything to make the hunger go away — and you stop eating when you're full.
On the other hand, emotional hunger may hit you like a ton of bricks, coming on suddenly, usually due to some type of uncomfortable, underlying emotion, like stress, boredom, anger, fear, loneliness or sadness. With emotional eating, it's likely that you eat to the point of feeling overstuffed, instead of stopping when you're full. Emotional hunger is also often accompanied by a craving for a specific type of food, usually comfort foods like pizza or chocolate, and feelings of guilt after indulging.
Reconnecting to Your Body
According to Monica Smith, a health and nutrition educator from the Michigan State University Extension, many people have become disconnected from their true hunger signals. That's because years of emotional eating can change your brain chemistry and make eating for comfort seem more appealing. When you give in to emotional cravings, you feel calmer and more satisfied in the moment. As a result, your brain wants more and tends to tune out real hunger signals in favor of immediate gratification.
Although it takes practice, especially if you've been eating emotionally for years, you can reconnect with your body and tune in to your own hunger cues and signals by adopting a way of eating called mindful eating.
What Is Mindful Eating?
Mindfulness is a general term for bringing your awareness and attention to the present moment, instead of letting your brain wander off into distractions. Mindful eating brings the concepts of mindfulness to food by prompting you to become aware of your body sensations, thoughts surrounding food and hunger signals — both before you decide what to eat and while you're eating.
According to a report published in Diabetes Spectrum in August 2017, the intention of mindful eating is to help people savor the moment, without focusing on restriction. The report notes that many people who engage in mindful eating make their own decisions to eat less, choose healthier foods and appreciate the food they have. Although weight loss isn't the goal of mindful eating, it's a common (and welcome) side effect.
Keeping a Food Journal
One of the best ways to get started with mindful eating is by keeping a food journal. Unlike a typical food journal, which only requires you to record the types and amounts of food you're eating, a mindful eating food journal considers emotions as well.
For two weeks, write down everything you eat and when. In addition to this, write down how you were feeling at the time. Did you reach for a bag of chips because you were bored while you were watching TV? Did you get into a fight with your spouse and then find yourself reaching into the cookie jar shortly after? The purpose of tracking your food intake and your emotions together is to figure out what your emotional eating triggers are.
Once your triggers are identified, i.e., you have determined that you eat when you're bored, make a plan to stay ahead of them. If you usually watch TV after dinner and snack on chips, skip the TV and go for a walk instead. If fighting with your spouse prompts you to eat, make a plan to call a friend after an argument, instead. You don't have to give details, but talking with a friend can distract you from emotional eating.
How to Start Mindful Eating
Once your emotional eating triggers are identified, it's time to put the concepts of mindful eating into practice. When you get the urge to eat, ask yourself a few questions to try to decide if you're truly hungry or simply letting your emotions guide you.
Some questions you may consider are:
When was the last time I ate? Did I just finish a meal and now I want something sweet, or has it been a while since I've eaten?

Does my stomach feel empty or full? Is the urge to eat coming from my stomach or coming from my brain?
Am I experiencing any uncomfortable emotions that are bringing on an urge to eat, or do I feel emotionally stable?
Would a healthy meal like chicken and broccoli satisfy me right now, or am I craving something specific, like pizza and ice cream, to fill an emotional void?
If you ask yourself all of these questions and determine that the answers signal that you're physically hungry, the next step is to sit down to your meal and employ mindful eating in the moment.
Practicing Mindful Eating
In simple terms, mindful eating involves truly paying attention to the food you're eating. At first, this may be a struggle, but the more you practice, the better you'll get. And over time, you'll find that regularly practicing mindful eating may help you stop overeating, so that you can lose weight. Harvard Health Publishing recommends several things you can do to start mindful eating:
Sit down to a meal when you start to get hungry, but don't let yourself get famished.

Eat your meal at a table, without any distractions, like the TV or your phone.
Take small bites and chew your food thoroughly.
Pay attention to how the food tastes and feels in your mouth.
Eat slowly and put your fork down in between bites.
Note when you start to feel satisfied and stop eating then, even if you haven't cleared your plate.
So, the next time you think, "I really want to lose weight, but I have no willpower," check in with your body and see how you can incorporate mindful eating in your day and your life. If you feel like you've covered all the bases and you still can't stop eating, a mental health professional trained in coping skills for emotional eating may be able to help.