Peanut butter and jelly sandwiches have a lot of upsides. Cheap, full of protein and easy to make, this all-American staple has health benefits galore to go along with its other positives.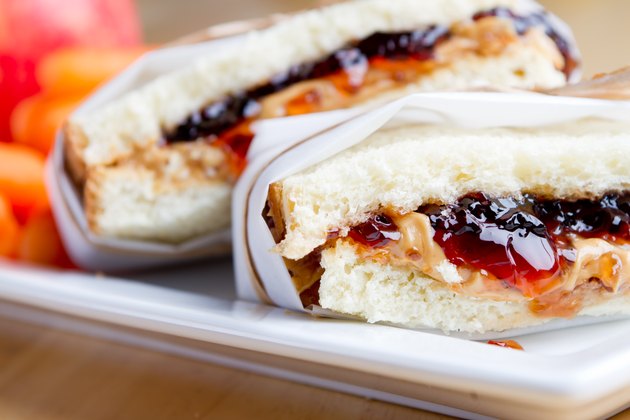 Tip
Peanut butter is an easy way to get protein and fiber into your kids. While jelly, jam and preserves contain sugar, they've also got fruit. So this power-packed sandwich favorite offers a lot of bang for its buck — especially if you use whole-wheat bread.
Healthy PB and J
If you're stressed and out of time to make lunch or dinner, peanut butter and jelly provides a quick, kid-friendly meal. Spread some peanut butter onto a piece of bread, add a smear of jelly and top it with another piece of bread. Simple and easy.
While it's mainly the peanut butter that makes the peanut butter and jelly sandwich healthy, if jelly or jam is what gets your kid to eat peanut butter it's probably worth the 12 grams of sugar in a typical serving of strawberry jelly.
High in Protein
Two tablespoons of peanut butter provide 7 grams of protein. The amount of protein you need in a day varies by age and gender, but that's still a good source of protein.
For children, ages 1 to 3, peanut butter is about half their daily required protein, at 13 grams. Children, ages 4 to 8, need 19 grams, so it's still more than one-third of their recommended daily allowance, or RDA.
The U.S. RDA of protein suggests girls and boys, ages 9 to 13, should eat 34 grams of protein each day, so a single PB&J with 2 tablespoons of peanut butter provides more than one-fifth of that. Adult men typically need 56 grams of protein, while adult women typically need 46 grams, so even for adults, PB&J is a good protein source.
High in Vitamins and Minerals
PB&J is also a good source of vitamins and minerals. That same 2-tablespoon serving of peanut butter that provides so much protein also provides the following:
• Magnesium: 57 milligrams, about 15 percent of RDA for women, 20 percent for men
• Phosphorus: 107 milligrams, about 15 percent of RDA for adults
• Zinc: 0.85 milligrams, 7.7 percent of RDA for men, 10.6 percent of RDA for women
• Niacin: 4.6 milligrams, about one-third of the adult RDA
• Vitamin B-6: 0.017 milligrams, nearly 14 percent of the adult RDA
Peanut Butter and Heart Health
Varieties of PB&J
This is a sandwich that allows for lots of variety. For example, Smuckers Natural Chunky Peanut Butter has 95 milligrams of sodium, but if sodium is a concern, you can use peanut butter made without salt. There are natural peanut butters made strictly with peanuts, or peanuts and salt. There are organic peanut butters made with organically grown peanuts.
One slice of whole-wheat bread has about 2 grams of fiber, so you're adding even more fiber to your diet if you make your sandwich with two slices of wheat bread. Make sure you use whole-wheat bread if you're looking for fiber, however. Breads labeled "wheat" may not necessarily be whole wheat, so read the label.
You can add fruit to your PB&J. Slicing up real strawberries to go along with the jelly or jam is a good way to get children to eat fruit. Another good way is to add bananas, which give not only fiber, but extra sweetness.
Choosing Your Peanut Butter
When you're choosing peanut butter for your PB&J, the type of peanut butter matters, says Consumer Reports. The benefits of peanut butter are found in the peanuts.
The sugars and the added oils that keep the peanut butter from separating cut into its overall nutrients.
Look for natural and organic peanut butters that contain fewer additives. Some brands contain only peanuts and salt, and other brands contain only peanuts.
PB&J's American Heritage
The Boston Cooking School's Magazine of Culinary Science and Domestic Science introduced what may have been the first PB&J recipe. "Try making little sandwiches ... of three very thin layers of bread and two of filling, one of peanut paste ... and currant or crab-apple jelly for the other," wrote Julia Chandler Davis in 1901. "The combination is delicious, and so far as I know, original."
But, as Outside Magazine notes, PB&J's classic status came about during World War II, when soldier rations included bread, Welch's Concord Grape Jelly and canned peanut butter.
Today, the sandwich's popularity continues, fueled by kids and athletes everywhere.