A strange phenomenon can occur after you eat raw fruit. You may notice that your lips swell, your mouth tingles or tongue feels sore and itchy. Although you may suspect that you're allergic to fruit, you are more likely experiencing a common syndrome related to pollen allergies. Pollen allergies are airborne allergies to pollen produced by trees, weeds and grasses. If you have pollen allergies, your eyes water, your nose runs and your throat itches when you inhale pollen during the spring and summer months. If you have a known pollen allergy, you may develop a sore tongue and other symptoms after eating certain fruits.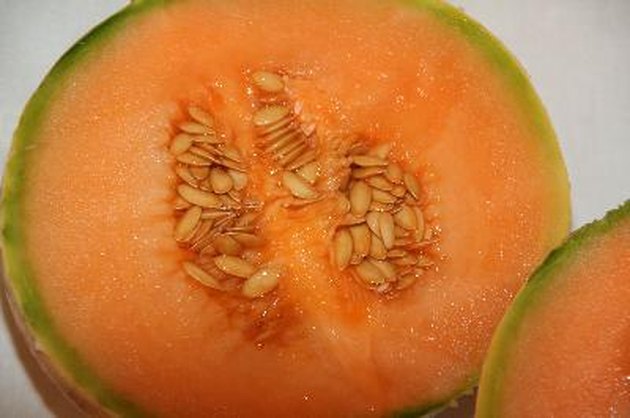 Pollen Allergy
Pollens are airborne particles that are created and released when plant life is blooming. Pollen is very light and is carried away by the wind. If you have a pollen allergy, when pollen counts are high, you inhale the particles and your immune system malfunctions. Instead of recognizing that the pollen is harmless, the immune system reacts as if the substance is dangerous. This causes various chemicals to increase in your body, especially histamine. Histamine is released throughout the respiratory system, leading to asthma, sneezing, throat irritation and skin inflammation.
Cross-Reactivity
The reason you may develop a sore tongue after eating certain fruits is because of cross-reactivity. Cross-reactivity is the process in the body where the immune system mistakes the proteins in the fruit for a certain type of pollen, according to MayoClinic.com. The soft tissue in the local area where the proteins touch release histamine causing itching, irritation, stinging and tingling. The symptoms of this type of reaction are commonly minor and generally last for a few minutes. If your tongue remains sore, you need to call your doctor.
Types of Fruit
Watermelon, honeydew, bananas and cantaloupe may cause this type of reaction if you suffer from ragweed pollen allergies. Birch pollen may be cross-reactive with kiwi, prunes, cherries, apples, peaches, pears, apricots, cherries and nectarines, according to the Children's Hospital of Philadelphia. If you are allergic to certain grass pollens, then melons, tomatoes, oranges and peaches may cause your tongue to feel sore and itchy. You can experience this same reaction with certain nuts and raw vegetables. This is not a complete list of pollen and fruit cross-reactivity.
Treatment
If you notice that your tongue is sore almost every time you eat fruit, try to cook the fruit before you eat. This changes its protein structure and may not cause this type of reaction, according to the Food Allergy and Anaphylaxis Network. In severe cases, immunotherapy or allergy shots may help alleviate symptoms over a long-term period.